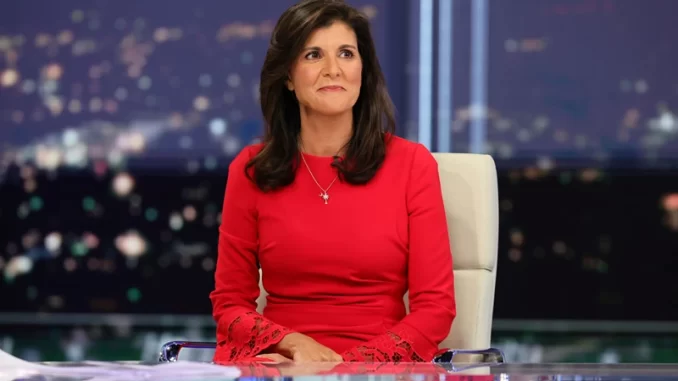 OAN Roy Francis
8:34 AM PT – Tuesday, February 14, 2023
Former South Carolina governor Nikki Haley announced that she is running for president in the 2024 election.
Haley, who had also served as a United Nations Ambassador, posted a video message on her Twitter page making her announcement, boasting about her record while serving as governor. She also touched on the future of the country and what it needs moving forward.
"It's time for a new generation of leadership," she stated in her video, while naming the failures of Biden and the Democratic party in recent years.
Over the past two years, Haley has been predicted to make a run for the office of president in 2024 as she travelled across the country with her political group Stand for America.
She had helped Republicans running in the 2022 elections as she travelled to Iowa, New Hampshire, and Nevada. All of these states, along with her home state of South Carolina, hold primary contests in the Republican presidential nomination.
Haley had been questioned in 2022 about whether she would run for president in the future, to which she said she would put all her effort into it if she did.
"After November, we'll figure it out," she said. "But you know what I've said, I've never lost a race. I'm not going to start now. If there's place for me, we'll put a hundred percent in, and we'll finish it."
Haley had also served in the Trump administration as the United States Ambassador to the United Nations. She had left in 2018 on seemingly good term with the former president.
However, after January 6th 2021, she had publicly distanced herself from Donald Trump, even condemning him for the events during that day.
Trump had previously commented on the possibility of Haley running against him in 2024.
"Nikki suffers from something that's a very tough thing to suffer from," he said. "She's overly ambitious."
In January the former president said that he had a conversation with Haley about her running for president in 2024.
"Go by your heart if you want to run," Trump had said he told Haley, and that she should do it.
Other prominent names who are expected to make a run for the Republican presidential nomination are Florida Governor Ron DeSantis, former Vice President Mike Pence (R-Ind.) including many others.