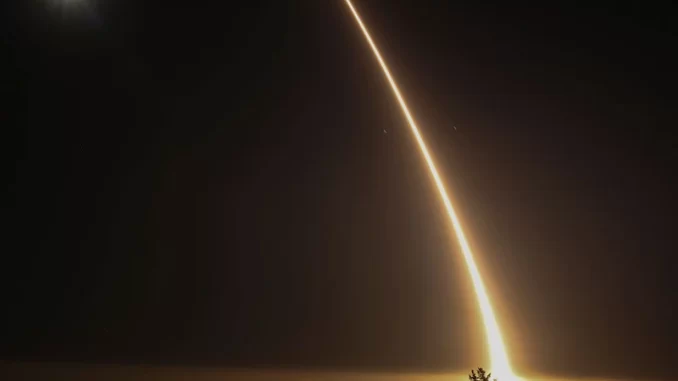 OAN Roy Francis
7:44 AM PT – Friday, February 10, 2023
In an effort to display nuclear readiness, the United States Air Force launched an unarmed Minuteman III intercontinental ballistic missile on Thursday night.
The test launch was conducted from Vandenberg Space Force Base in California. The ballistic missile was equipped with a test reentry vehicle and was launched at 11:01 p.m. Pacific Time.
General Thomas A. Bussiere, Air Force Global Strike Command commander spoke about the launch, and the purpose for conducting it.
"A test launch displays the heart of our deterrence mission on the world's stage," he said. "Assuring our nation and its allies that our weapons are capable and our Airmen are ready and willing to defend peace across the globe at a moment's notice."
The ICBM's reentry vehicle flew over 4000 miles to the Marshall Islands. Colonel Christopher Cruise, 377th Test and Evaluation Group Commander said that this test verifies the accuracy and reliability of the ICBM weapon system. This test launch was also meant to provide the data to be able to maintain an effective nuclear deterrent.
"This launch showcases the redundancy and reliability of our strategic deterrence systems while sending a visible message of assurance to allies," he said. "This multilateral team reflects the precision and professionalism of our command, and our joint partners."
The nuclear community which includes the Department of Defense, Department of Energy, and the U.S. Strategic Command all utilize the data from test launches for continued evaluation and upgrades to their systems.
"This test launch is a culmination of months of preparation and collaboration across multiple Air Forces agencies," Major Martin Escarzaga, task force commander said. "The Airmen who perform this mission of strategic deterrence are the best our nation has to offer. They work 365 days a year to maintain, support, operate, and secure this vital component of our nuclear triad."
Airmen from the 91st Missile Wing from Minot Air Force Base in North Dakota had been chosen to support the test.
The bases that host the Air Force Global Strike Command have personnel on standby 24 hours a day, maintaining the nation's ICBM alert forces.
The test launch comes amid rising tensions with China, as just days before the Chinese spy balloon had flown across the U.S. and was ultimately shot down over the Atlantic.
As well as North Korea holding a parade that displayed 12 Hwasong-17 ICBM launchers.
The U.S. Air Force, however, maintained that this test had been months in the planning and not a reaction to world events, and that similar tests have been conducted over 300 times before.