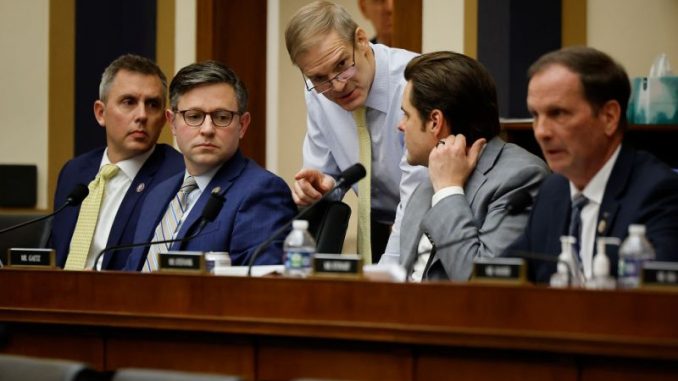 OAN Geraldyn Berry
6:12 PM PT – Thursday, February 9, 2023
The new GOP-led House panel looking into the weaponization of the federal government conducted its first hearing on Thursday.
Ahead of the first hearing, the White House had referred the subpanel as a "Fox News reboot of the House Un-American Activities Committee" and "a political stunt that weaponizes Congress to carry out the priorities of extreme MAGA Republicans in Congress."
The panel, called the Select Subcommittee on the Weaponization of the Federal Government, was headed by Chairman Jim Jordan (R-Ohio) and will examine "ongoing criminal investigations" into how the executive branch gathers data on and conducts inquiries into American residents.
"We're focused on the whole weaponization of government, and the idea that the government is not working for the American people," Jordan said. "The government is supposed to protect the First Amendment, not have, as Mr. (Jonathan) Turley said, 'censorship by surrogate.'"
Democrats countered that the committee itself is an illustration of illegal government weaponization, following a trend started by the previous administration of former President Donald Trump of using the tools of authority to attack political rivals.
Two sessions of the hearing, attended by a variety of current and former congressmen, FBI officials, and legal professionals, were held. Claims about Republicans having been targeted by the government, as well as the widespread conviction among some conservatives that the government and the media are conspiring to stifle the right, were discussed.
The chairman had made a reference to George Washington University Law Center professor who was one of the witnesses slated for Thursday's hearing.
The only Democratic member invited to speak as a witness, Rep. Jamie Raskin, (D-Md.) said that the term "weaponization" is appropriate for this special subcommittee. He believed that millions of Americans already fear it will be used not to target but to further weaponize the government.
Representative Tulsi Gabbard (I-Hawaii) highlighted that American citizens no longer feel comfortable expressing their thoughts. She believed that that "individuals in our government, frequently acting through their arms in the mainstream media and big tech… get to decide what is true and what is untrue."
"The idea that we must just blindly accept whatever the government or those in power tell us is true goes against the very essence of our Constitution and Bill of Rights," Gabbard said.
By January 2th, 2025, the subcommittee must deliver a final report on its findings to the House. Additionally, according to Jordan, the panel will suggest legislation "that will assist protect the American people."
This is a developing story.