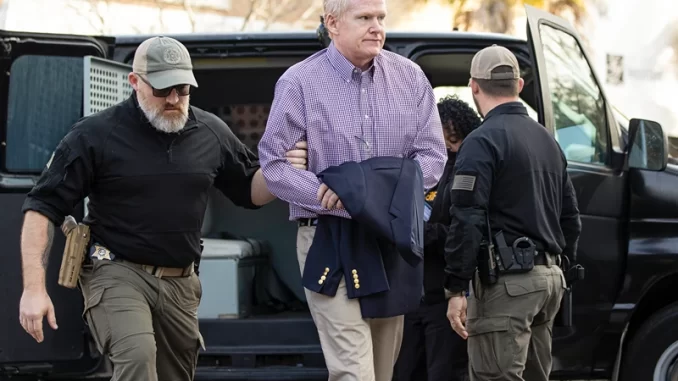 OAN Geraldyn Berry
11:52 AM PT – Wednesday, February 8, 2023
South Carolina Law Enforcement Division (SLED) confirmed a bomb threat at the Colleton County courthouse in Walterboro, South Carolina on Wednesday.
"A bomb threat was received by Colleton County courthouse personnel," SLED said. "The building has been evacuated and SLED, along with the Colleton County Sheriff's Office, are investigating the threat. No additional information is available from SLED at this time."
Just after the prosecution called South Carolina Law Enforcement Division Agent Brian Hudak as their 38th witness during Alex Murdaugh's double murder trial, Judge Clifton Newman ordered the evacuation.
"Ladies and gentlemen, we have to evacuate the building at this time so we'll be in recess until we discover what's going on," the judge said.
As a crowd left the courthouse and moved across the street in response to the alleged threat, Murdaugh was escorted away by law enforcement, and the jury members were directed to a quick lunch.
"The Colleton Sheriff's Office urges citizens to use an alternate route of travel and will update traffic conditions as needed," the sheriff's office said in a statement.
South Carolina attorney Justin Bamberg suspects that a "random" person is behind the phone call that rattled jurors. There are reports that officials fear that the alleged threat could disrupt the high profile trial.
Alex Murdaugh was charged with murder after executing his wife, Maggie and his youngest son, Paul.
On June 7, 2021, 22-year-old Paul Murdaugh and 52-year-old Maggie Murdaugh were shot and killed at the family's hunting home in the Lowcountry of South Carolina.
Jeanne Seckinger, the CEO of the law company, said on Tuesday that she approached Alex Murdaugh about missing client funds 12 hours before Maggie and Paul were killed.
The night of the murder, a forensic expert claimed to have found gunshot residue on Murdaugh's hands, clothing, and a blue raincoat, but not on Alex's shoes.