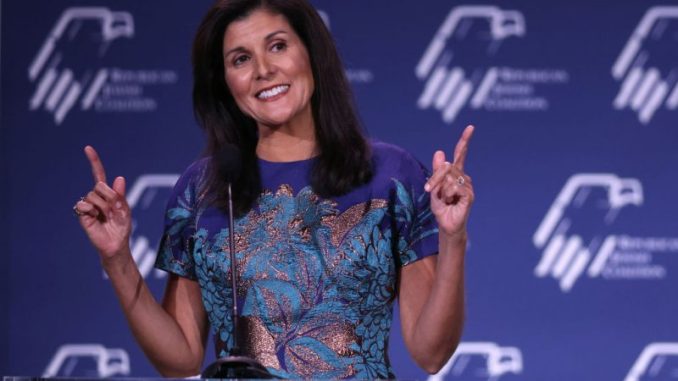 OAN Geraldyn Berry
UPDATED 11:46 AM PT – Wednesday, February 1, 2023
Former South Carolina Governor Nikki Haley is anticipated to announce her official bid for 2024 presidency. Haley is the second major candidate challenging 45th President Donald J. Trump for the 2024 Republican presidential nomination.
Supporters of the 51-year-old claim that they have received an email invitation to a "launch event" in Charleston on that February 15th. Sources close to the Republican said that she intends to launch a White House bid on that February 15th date.
In 2021, the United Nations ambassador and critic of the 45th president had expressed that she would not run if Trump did to Associated Press. Following the January 6th event, Haley initially casted doubts on Trump's political future.
Although, Haley has mentioned in the past her disinterest in running for presidency, that sentiment was different in an interview with Fox News. In response to questions asked, Haley said that "a lot has changed," citing the U.S. economy and other things.
"It's bigger than one person. And when you're looking at the future of America, I think it's time for new generational change. I don't think you need to be 80 years old to go be a leader in D.C.," Haley said.
Haley comes from two Indian immigrant parents. She was South Carolina's governor from 2011-2017. In the past, she has received endorsements from former South Carolina First Lady Jenny Sanford and former Alaska Governor Sarah Palin. In 2017, she became a member of Trump's cabinet for two years