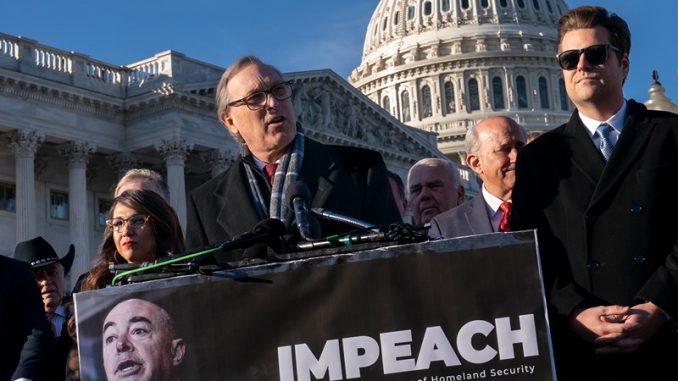 OAN Geraldyn Berry
UPDATED 7:04 PM PT – Wednesday, February 1, 2023
In response to calls for Alejandro Mayorkas to step down from his position as Secretary of Homeland Security over his management of the southern border, Representative Andy Biggs has announced that he will file articles of impeachment.
Representatives Lauren Boebert (R-Colo.) and Marjorie Taylor Greene (R-Ga.) were present and in support of this move.
During the Wednesday news conference, Biggs (R-Ariz.) said that Mayorkas had violated his oath of office.
"The founders said that you have impeachment for high crimes and misdemeanors — that's constitutional," Biggs said. "They didn't say you have to be convicted of a felony. What they said is you have a public official who has violated public trust, and there is nobody who typifies that more in my opinion than Secretary Alejandro Mayorkas."
Other Representatives, such as Pat Fallon (R-Texas), have also filed articles of impeachment against Mayorkas. Fallon said that he and Biggs will co-sponsor each other's proposals. In Fallon's articles, which were forwarded to the Judiciary Committee, Mayorkas was charged with "serious crimes and misdemeanors" while serving as the Secretary of Homeland Security.
Mayorkas responded to the threats during an interview with MSNBC on Tuesday.
"Within a broken system, we are doing everything that we can to increase its efficiency, to provide humanitarian relief when the law permits and to also deliver an enforcement consequence when the law dictates. That is exactly what we are doing. And as far as I am concerned, I will continue to do that with tremendous pride in the people with whom I work," Mayorkas said.
In February 2021, Mayorkas secured his position as Homeland Security Secretary in a 56-43 vote, confirmed by the Senate.
The impeachment push comes as 2.3 million migrants were encountered in fiscal year 2022.