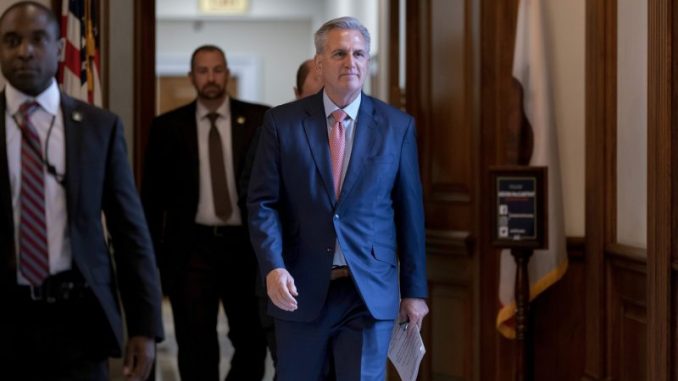 OAN Roy Francis
UPDATED 7:35 AM PT – Tuesday, January 31, 2023
The new Speaker of the House is reportedly planning a visit to Taiwan, but China has issued a warning against the trip.
China has issued a warning against Speaker Kevin McCarthy's (R-Calif.) trip to Taiwan saying that it would violate the United States' "one China" policy.
The "one China" policy is the U.S. recognition that the People's Republic of China is the sole legal government of China. It also acknowledges, but does not endorse, Beijing's claim that Taiwan is a part of the country. The U.S. has consistently supported the island economically and militarily seeing it as an important ally in the area.
"We urge certain individuals in the U.S. to earnestly abide by the one-China principle," China's Foreign Ministry spokeswoman Mao Ning said on Monday.
When asked about a report that McCarthy was planning a trip to Taiwan, which he said he would do if he was elected to House Speaker, she added that the U.S. should "stop doing anything that violates the basic norms in international relations."
Former House Speaker Nancy Pelosi (D-Calif.) was the first Speaker to visit Taiwan in over 25 years, a trip that McCarthy had supported. However, the trip had caused a series of threats to be issued from China, along with live-fire military drills near the island.
The planned trip is part of House Republicans' hard-line stance on China and their relationship with Taiwan. The new Congress has established a Select Committee on the Strategic Competition Between the United States and the Chinese Communist Party to focus on the strategic competitions and relations with China on the world stage.
The committee's purpose is to "expose and fight against the Chinese Communist Party's cyber, trade, and military threats against America," McCarthy had tweeted out before being elected to the Speakership.
 China has always claimed that Taiwan's government as illegitimate and that they have rightful control over them. As Chinese President Xi Jinping has expanded his power within China, tensions and fears in the area are increasing of him soon seeking official control over the island through military force.  
Although reports suggest the trip by the Speaker of the House is in the planning stages, no official date has yet to be announced.