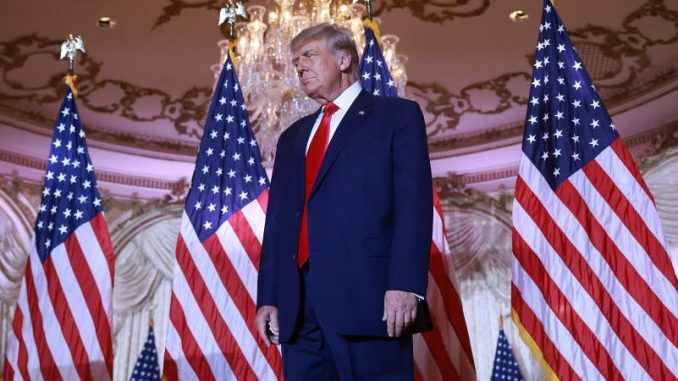 OAN Roy Francis
UPDATED 8:03 AM PT – Saturday, January 28, 2023
Former President Donald Trump, who had announced his bid for the 2024 presidential election, is set to kick off a new phase of his campaign by visiting two states on Saturday.
Trump had announced his third presidential campaign in November, but Saturday marks the beginning of the new phase of his campaign, as he is set to visit New Hampshire and South Carolina.
Salem, New Hampshire, will be the first stop for Former President Donald Trump. He will be there to deliver a keynote address to party leaders, elected officials, and activists who will be attending the New Hampshire GOP's annual meeting.
New Hampshire is the site of Trump's victory in 2016 which propelled him to the GOP nomination and the White House. He is expected to receive a very strong welcome from the attendees.
Steve Stepanek, the state party chair who had previously co-chaired Trump's 2016 presidential campaign in the state talked about the scheduled address.
"President Trump has long been a strong defender of New Hampshire's First in the Nation Primary Status and we are excited that he will join us to deliver remarks to our members," he said.
The second stop that the former president will make is at the capitol building of South Carolina. He is set to make another address with Senator Lindsey Graham (R-S.C.), and Governor Henry McMaster (R-S.C.) in attendance.
Trump is expected to announce his leadership team at the South Carolina stop, in what is set to be his first 2024 campaign event since he launched it in November.
"It's going to be the first of many trips," Trump campaign senior adviser Chris LaCivita said. "It's something we've been looking forward to do. The early bird gets the worm. It's all about getting out, organizing, getting your people together, getting them motivated, getting them excited. We're starting early and starting aggressive and putting this organization together, I think bodes well for the future."
LaCivita also addressed critics of the former president and his current campaign by saying that they have a strong strategic plan and timeline in place that they are sticking to.
"The campaign's always been real to us. It may not have been quote-un-quote real to the prognosticators that live in the Washington D.C. area," he said. "but frankly, we don't give a damn about them."