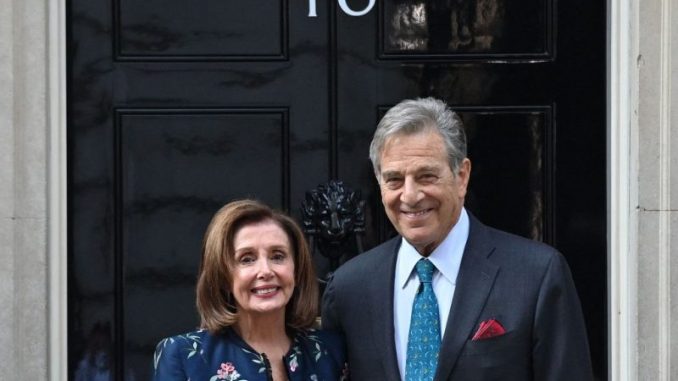 OAN Roy Francis
UPDATED 10:46 AM PT – Friday, January 26, 2023
A California court has released the footage from the October 2022 attack on Paul Pelosi.
On Friday, the San Francisco County Superior Court released the footage to the public after a request by prosecutors to withhold it was denied by Judge Stephen Murphy.
The footage shows the attack on October 28, 2022 which resulted in Paul Pelosi, 82, being transported to the hospital for emergency surgery on a skull fracture.
The footage shows the police arriving at the residence and knocking on the door. The door was opened by Paul and the suspect David DePape.
Both Paul and DePape are seen holding on to a hammer. After the police officers order DePape to drop the hammer, he refused and a quick struggle ensued between him and Paul before he quickly managed to wrestle the hammer away from Paul.
DePape is then seen swinging the hammer at Paul as the police officers rush into the home. They tackled DePape and apprehend him.
Fox News exclusive surveillance footage from the back of the house also showed DePape dropping multiple bags in the yard, then pulling a hammer out and start hitting the glass door with it, eventually making his way into the house.
The suspect had reportedly broke into the Pelosi home waking Paul up, and demanding to know where Nancy Pelosi was. He had then threatened to tie up Paul and prevented him from escaping.
The 911 call from Paul came when he had convinced the suspect to let him use the bathroom, using it as a cover to make the call.
DePape is facing state charges of attempted murder, assault with a deadly weapon and elder abuse. Federal charges against him include assaulting an immediate family member of a federal official as well as attempted kidnapping of a federal officer.
He has pleaded not guilty to all the charges against him.  
The decision to release the footage publicly came after a litany of news organizations demanded the release of the material by arguing that there should be complete transparency with the public regarding the incident.
Nancy has said she has not seen the footage and is leaving the case in the hands of the legal prosecutors and will accept whatever the outcome will be.