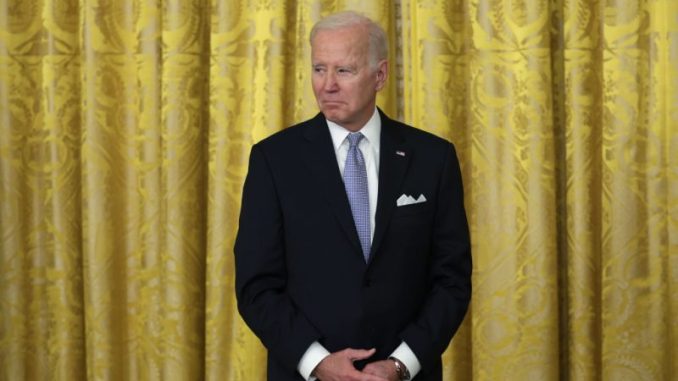 OAN Geraldyn Berry
UPDATED 2:35 AM PT – Tuesday, January 24, 2023
The Biden administration is being sued over its recently expanded humanitarian parole program on the grounds that it is illegal, according to Fox News. This includes a coalition of 20 states and a leading Conservative legal organization.
The states included in the lawsuit are Alabama, Alaska, Arkansas, Florida, Idaho, Iowa, Kansas, Kentucky, Louisiana, Mississippi, Missouri, Montana, Nebraska, Ohio, South Carolina, Tennessee, Utah, West Virginia, and Wyoming.
Texas and America First Legal in the Southern District of Texas, along with 19 states, filed a lawsuit in order to block the program. The program allows tens of thousands of migrants from specific countries into the United States each month.
Due to the program not participating in the notice-and-comment procedure required by the Administrative Procedure Act, the lawsuit claims that the program is unlawful. The Administrative Procedure Act has recently been used to temporarily invalidate a number of immigration regulations.
Congress has limited the use of parole to "case-by-case for urgent humanitarian reasons or considerable public benefit," which the lawsuit claims that the program allegedly falls short of.
Additionally, the lawsuit claims that the states "risk significant irreparable harms from the Department's abuse of its parole authority, which permits possibly hundreds of thousands of additional aliens to enter each of their already overburdened territories." The program facilitates rather than stops the migrant surge.
"Every state in America, especially border states like Texas, is being crushed by the impacts of illegal immigration. The Biden open borders agenda has created a humanitarian crisis that is increasing crime and violence in our streets, overwhelming local communities, and worsening the opioid crisis. This unlawful amnesty program, which will invite hundreds of thousands of aliens into the U.S. every year, will only make this immigration crisis drastically worse," Texas Attorney General Ken Paxton said to Fox News.
The program was initially introduced in October of 2022 for Venezuelans. After a month, Haitians, Nicaraguans and Cubans were added.  These were announced alongside an expansion of Title 42.