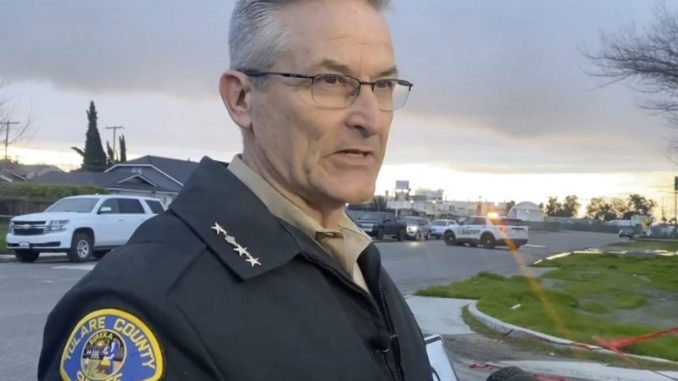 OAN Geraldyn Berry
UPDATED 6:30 PM PT – Wednesday, January 18, 2023
According to Tulare County Sheriff Mike Boudreaux, the alleged shooter of the 'cartel-style execution' of six people, including a baby, stood over his victims prior to the attack.
The forensics examination team believes that the child's mother had attempted to flee before the shooter caught up with her, stood over her, and fired multiple rounds into her head.
"I know for a fact this 10-month-old baby was relying on the comfort of his mother. There was no reason for them to shoot that baby, but they did," Boudreaux  said.
On early Monday morning, authorities received a call about multiple shots being fired. It was later discovered that the person who made the call was someone hiding at the property. It was revealed that authorities will question the three survivors.
The sheriff has retracted his earlier statements to the media where he said he believed that the assault had connections to a cartel. He noted that investigators are also examining the possibility that the crime was gang violence related.
"I am not eliminating that possibility," the sheriff said. "These people were clearly shot in the head and they were also shot in places where the shooter would know that a quick death would occur. This is also similar to high-ranking gang affiliation and the style of executions that they commit."
Sheriff Boudreaux claimed that law enforcement was familiar with the house and mentioned that gang activity "has consistently occurred in the past." He provided no further details.
The victims were identified as 72-year-old Rosa Parraz, 52-year-old Eladio Parraz, Jr., 49-year-old Jennifer Analla, 19-year-old Marcos Parraz, 16-year-old Alissa Parraz, and 10-month-old Nycholas Parraz.