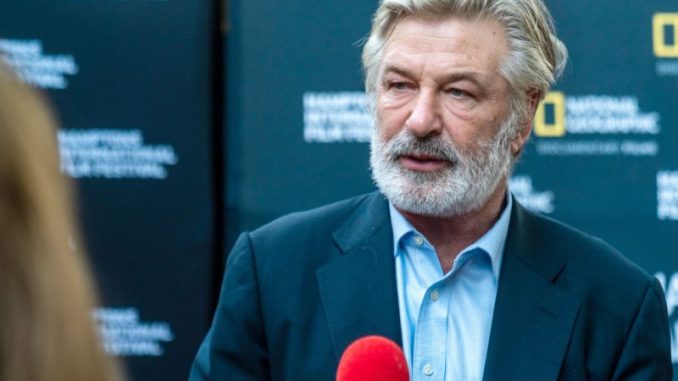 OAN Roy Francis
UPDATED 9:51 AM PT – Thursday, January 19, 2023
Actor Alec Baldwin will be charged with two counts of involuntary manslaughter New Mexico First Judicial District Attorney Mary Carmack-Altwies announced on Thursday.
The charges against the actor come over a year after a gun that he was holding on the set of the movie "Rust" had discharged, resulting in the death of cinematographer Halyna Hutchins.
The incident happened while filming on October 21, 2021 at the Bonanza Creek Ranch in Bonanza City, New Mexico.
The armorer on the film, Hannah Gutierrez-Reed, will also be charged with two counts of involuntary manslaughter as well.
Assistant director Dave Halls has also signed a plea agreement for a charge of negligent use of a deadly weapon. The agreement included a suspended sentence and six months of probation.
The family of Hutchins released a statement thanking the Santa Fe Sheriff and the District Attorney after they had announced the charges.
"We want to thank the Santa Fe Sheriff and the District Attorney for concluding their thorough investigation and determining that charges for involuntary manslaughter are warranted for the killing of Halyna Hutchins with conscious disregard for human life." The statement read.
Involuntary manslaughter is a class D felony in New Mexico and Baldwin is facing up to five years in prison if convicted.
"After a thorough review of the evidence and the laws of the state of New Mexico, I have determined that there is sufficient evidence to file criminal charges against Alec Baldwin and other members of the 'Rust' film crew," Carmack-Altwies said. "On my watch, no one is above the law, and everyone deserves justice."
The District Attorney said that Baldwin and Gutierrez-Reed were "charged in the alternative." Which means that a jury will decide which definition of involuntary manslaughter they are guilty of if found guilty.
The District Attorney's office had reviewed a report submitted by the Santa Fe County Sheriff's Office about the incident.
The sheriff's office had spent over a year investigating the incident, and how a live round had made it onto the set of the movie. Gutierrez-Reed and Halls were the only crew member to handle the firearm, other than Baldwin.
A wrongful death lawsuit had also been previously filed against Baldwin and other key members in February 2022. The lawsuit called out the "reckless behavior and cost-cutting" as the reason leading to the death of Hutchins.