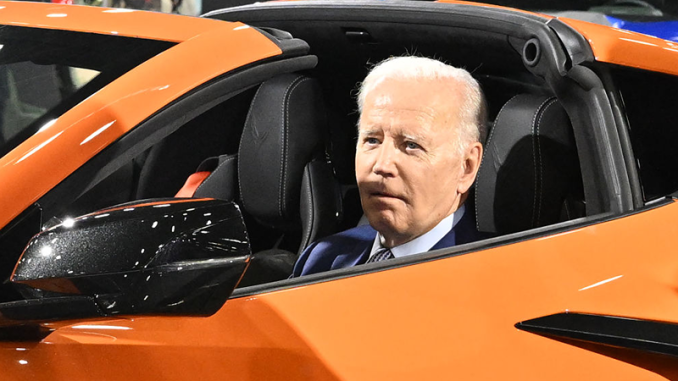 OAN Shannon Kelland
UPDATED 1:30 PM PT – Thursday, January 12, 2023
On Thursday, the president's Special Counsel announced that a second batch of documents were found in a storage space in the garage of Joe Biden's Wilmington, Delaware residence.
The documents found were also from the Obama-Biden administration like the first batch found in November.
The search, completed Wednesday night, examined Biden's residences in both Wilmington and Rehoboth Beach, Delaware. All of the documents except one were found in a storage space in Biden's Wilmington garage. The other record was discovered in a neighboring room.
It is speculated that the additional documents may have been shipped during the presidential transition in 2017.
"By the way, my Corvette's in a locked garage, okay? So it's not like they're sitting out in the street," Biden defended.
After classified records were discovered at former President Donald J. Trump's Mar-a-Lago home, Trump made a similar statement that the documents discovered at his estate were held behind a locked door in a house that was protected by the Secret Service.
Security measures of both officials fell short of the safeguarding requirements for national security secrets.
Attorney General Merrick Garland, had appointed special prosecutor Jack Smith to oversee the Justice Department's multiple inspections of Trump's conduct. On Thursday, Garland appointed a special counsel to investigate Biden.
Garland appointed Robert Hur, who was nominated as a U.S. attorney in Maryland by former President Donald Trump, as the special counsel.
House Oversight Committee Chair, James Comer (R-Ky.) called the discovery of documents "very concerning," and posed the question of "what is the vice president doing with classified documents?"
"There are many questions about why the Biden administration kept this matter a secret from the public, who had access to the office and the residence, and what information is contained in these classified documents. Republicans will push for transparency, accountability, and answers for the American people," Comer said.
Comer also noted the difference in action from the FBI during this and the Mar-a-Lago incident. He highlighted how the FBI has been less heavy handed with Biden following Trump's speech on "collusion" in the FBI.
Social media platforms, such as Twitter, have had #Biden and #BidenGarage trending. There has been countless jokes made online. One, which was retweeted by the House Judiciary GOP, showed Biden's driving his Corvette with documents flying out of the back.