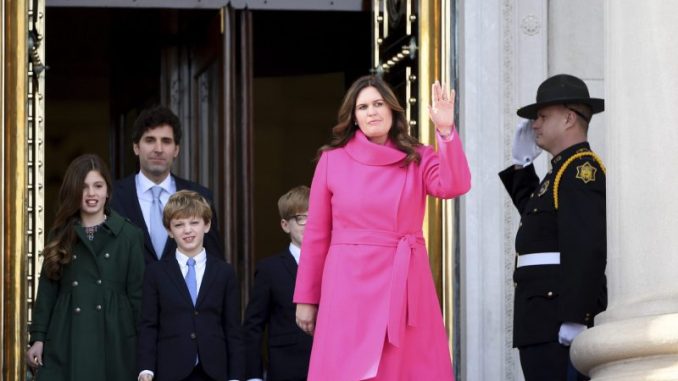 OAN Geraldyn Berry
UPDATED 4:26 PM PT – Tuesday, January 10, 2023
Sarah Huckabee Sanders has been sworn in as Arkansas' 47th governor, thus making her the first woman in the state to hold that position.
Notably, 45th President Donald Trump had endorsed Sanders' (R-Ark.) bid for governor and had been featured prominently in her campaign materials.
The former White House press secretary gave a speech on her inauguration day, echoing the vision and sentiments she held during her campaign.  
"A turning point in the history of Arkansas will usher in a new era of good jobs, great schools, safer streets and stronger families," Sanders said. "The people of Arkansas, in their vast wisdom, have entrusted a new generation to lead. This is our moment. This is our opportunity."
On Tuesday, within hours after taking office, well-known former Trump official had signed seven executive orders. In her inaugural address on the Capitol steps, she echoed how education reform is her top priority.
"As long as I am governor, our schools will focus on the skills our children need to get ahead in the modern world, not brainwashing our children with a left-wing political agenda," she said.
The Republican's executive orders involve instituting an immediate hiring and promotion freeze, reducing government rules and regulations, limiting government overreach, reduce bureaucracy and review previous executive orders,  protecting taxpayers and reducing waste in the Department of Commerce Division of Workforce Services Unemployment Insurance Program, prohibiting indoctrination and Critical Race Theory in schools, protecting state information and communications technology from the influence of the adversarial foreign governments, and eliminating culturally insensitive words from official use in government as to respect the Latino community.
Sanders is the first daughter in United States history to serve as governor of the same state her father once led.