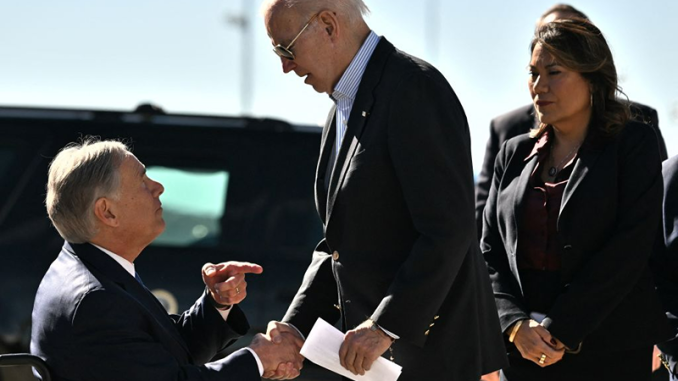 OAN Shannon Kelland
UPDATED 1:12 PM PT – Monday, January 9, 2023
President Joe Biden's brief visit to the southern border brought about controversy as he departed El Paso on Air Force One Sunday afternoon to attend the North American Leaders' Summit.
The Democrat's first verified visit to the southern border spanned four hours. There, the president walked a stretch of the U.S.-Mexico border. He inspected a port of entry and observed how border patrol conducts vehicle searches for drugs, money and other contraband.
El Paso is currently the biggest section of illegal crossings, mainly due to Nicaraguans fleeing repression, crime and poverty in their country.
The numbers of migrants crossing the U.S.-Mexico border has risen dramatically during Biden's administration. It is reported that there were more than 2.38 million stops recorded by September 30th, which is the first time the number topped 2 million. The Biden administration has struggled to control crossings, reluctant to take strict measures such as predecessor 45th President Donald Trump's administration.
President for the National Border Patrol Council, Brandon Judd called out the president for not visiting the sections where problems most heavily exist.
"You can look across the ports of entry on the entire southwest border, and that's not where we're seeing the illegal immigration. We're seeing the illegal immigration between the ports of entry. That's the Border Patrol. That's the component of CBP that handles all of this. He did not have any scheduled visits with them," he said.
A White House official came to Biden's defense and said, he "visited the busiest port of entry in El Paso to get a firsthand look at enforcement operations. He also visited a federally-funded migrant services center to meet with local officials working together with federal officials to support and shelter migrants."
Judd also stated that the president is "never going to be able to develop true policies and programs and operations unless [he's] willing to see exactly what is going on. And he refused to do that."
Upon Biden's arrival to El Paso, Texas Governor Greg Abbott (R-Texas) was waiting for him on the tarmac where he handed him a letter. The letter read the president is "two years too late" and "chaos" at the border was a "direct result" of the president's "failure to enforce the immigration laws that Congress enacted."
Biden later took the letter out of his jacket pocket during his tour, telling reporters, "I haven't read it yet."
However, Biden was also asked what he had taken away from observing the border firsthand and talking to the officers to which he said, "They need a lot of resources. We're going to get it for them."
Biden's announcement on border security along with his visit to the border are allegedly aimed at quiet political noise and minimizing the upcoming investigations into immigration promised by House Republicans.
In contrast to past and present Democrat leaders, former president Donald J. Trump made immigration one of his signature issues and traveled to the border several times. During one visit, he visited a small border station to inspect cash and drugs confiscated by agents. Additionally, during a trip to McAllen, Texas, the center of crisis at the time, he claimed, that Mexico would pay to build a border wall. Current Republican representatives want to resume work on the wall and stamp out Biden's current open border policy.
Governor Abbot also mentioned President Trump's success of achieving "historically low levels of illegal immigration" in his letter to current President Biden.
As Biden stepped onboard Air Force One, he took off for Mexico City. Monday and Tuesday, he will join the leaders of Mexico and Canada for a North American Leaders' Summit. Immigration is among the items on the agenda.