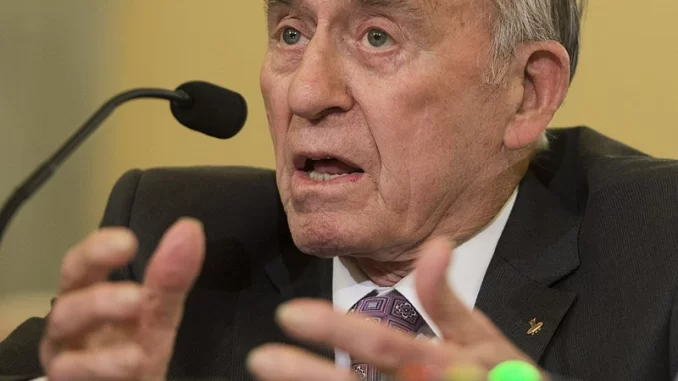 OAN Roy Franics
UPDATED 4:00 PM PT – Wednesday, January 4, 2023
Walter Cunningham, the last surviving astronaut from the 1968's Apollo 7 mission died at the age of 90 on Tuesday.
The National Aeronautics and Space Administration (NASA) confirmed his death in Houston in a press release.
"NASA will always remember his contributions to our nation's space program and sends our condolences to the Cunningham family," NASA's administrator Bill Nelson said in a statement.
His family released a statement as well honoring the late astronaut, and expressing their pride and gratitude for the life that Cunningham had led.
"The world has lost another true hero, and we will miss him dearly."
Cunningham was one of the three astronauts that were part of the first successful crewed space mission in 1968. The Apollo 7 mission lasted around 11 days and paved the way for humans to land on the Moon for the first time.
He had joined the Navy in 1951 and was on active duty with the U.S. Marine Corps before making his way up to the rank of colonel. He had also worked as a fighter pilot in Korea, accumulating more than 4,500 hours of flying prior to joining NASA in 1963.
The late astronaut had graduated from the University of California with a Bachelor of Arts with honors in physics in 1960 along with a Master of Arts with distinction in physics in 1961. He went on to receive his doctorate in physics from the Harvard Graduate School of Business.
Cunningham had retired from NASA in 1971 and proceeded to serve in the private sector as an executive, consultant entrepreneur, and radio talk show host.
In an interview in 1999 he recalled his career path and the mindset that he had throughout.
"I'm one of those people that never really looked back. I only recall that when someone asked me after I became an astronaut," Cunningham said. "All I remember is just kind of keeping my nose to the grindstone and wanting to do the best I could as — I didn't realize at the time, but that was because I always wanted to be better prepared for the next step. I've always been looking to the future. I don't live in the past."
Cunningham died after complications from a fall.