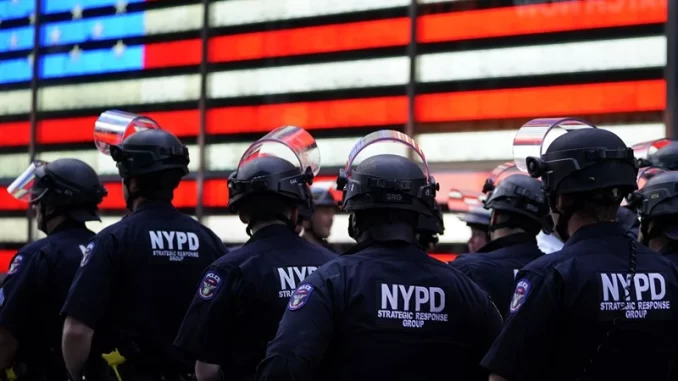 OAN Roy Francis
UPDATED 3:30 PM PT – Monday, January 2, 2023
The 19-year-old suspected of carrying out the New Year's Eve machete attack on three police officers has been officially charged.
Trevor Bickford from Wells, Maine, had attacked the officers unprovoked on Saturday night just after 10 p.m. near West 52nd Street and Eighth Ave. The location is right outside the secure area that had been set up for the New Year's Eve celebrations.
 Brickford has been officially charged with two counts of attempted murder of a police officer and two counts of attempted assault.  
New York Police Commissioner Keechant Sewell said during a press conference on Sunday that the attack was "unprovoked."
She also said that Bickford had tried to strike one officer over the head with a machete, and had struck two other officers in the head. One of the officers had fired their weapon, striking Brickford in the shoulder, who was then taken into custody.
Two officers were injured in the attack, one was an eight-year veteran of the NYPD, and the other had just graduated from the police academy on Friday. Both officers had suffered lacerations to the head, the junior officer had also suffered a skull fracture.
The New York Police Department had been preparing for a potential New Year's Day attack due to the recent mobilization of terrorist groups in the area.
"Throughout December, multiple pro-ISIS users disseminated extremist propaganda graphics broadly calling for attacks in advance of the New Year, advocating a wide range of low-tech tactics," the NYPD's pre-event assessment report said.
Brickford had travelled from Maine after he withdrew thousands of dollars as well as purchasing the weapon. After arriving in New York, he had made a large donation to the Bowery Mission, which authorities believe was to satisfy a Muslim tenet of charity.
The 19-year-old told investigators that he took a sip of water and then shouted "Allahu Akhbar" before attacking the officers. A diary that is believed to have belonged to the suspect showed his desire to join the Taliban and die as a martyr. The diary ends with a last will and testament on its final entry which begins with "This will likely be my last entry."
Trevor Brickford had been on the FBI's watchlist since before the attack. In mid-December, the FBI had interviewed him in Maine after he had claimed that he wanted to travel overseas and aid his fellow Muslims. It is reported that he was even willing to die for his religion.
Brickford remains hospitalized since the attacked due to the injuries that he sustained when he was shot by the police officer.