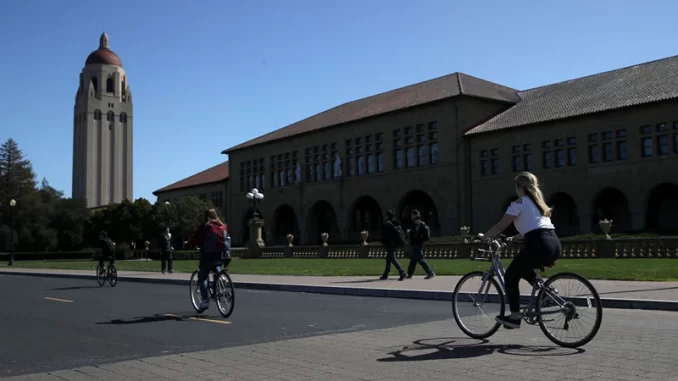 OAN Newsroom Correspondent Annyatama Bhowmik
UPDATED 6:37 PM PT – Tuesday, December 20, 2022
Stanford's Manual of Acceptable Words, a plan that was a part of eliminating certain terms from the school's website, has been largely criticized.
The guide, titled "The Elimination of Harmful Language Initiative" propounded that words like "American," "abort" and "child prostitute" should be changed to "U.S. citizen," "cancel," and "child who has been trafficked" respectively within the university's sites. Stanford claims that it was an attempt to eliminate many forms of harmful language.
The index is believed to be multi-phase project of Stanford's I.T. leaders. The guide featured 10 "Harmful Language" sections outlined in the index. These were namely ableist, ageism, colonialism, culturally appropriative, gender-based, imprecise language, institutionalized racism, person-first, violent, along with other words.
This guide was revealed in May, but did not go viral until Monday. Evidently, the list was too much for some to handle as it was hidden from the public view by the authorities.
Twitter user Adam Baldwin, who is also an actor and a Conservative, criticized the index proposed by the University. His tweet evidently flooded the social media and bought many controversies into focus.
Stanford professor Dr. Jay Bhattacharya reacted to the guide.
"I'm still proud to be an American, and I don't care that Stanford disapproves of my using the term," Bhattacharya said.
It also caught the attention of the Twitter CEO Elon Musk.
Dee Mostofi, a spokesperson of the University told Fox News Digital that "Stanford's style guidelines are meant for internal use, often for individual workgroups."
Gabriella Hoffman of townhall.com also took to his Twitter handle to express her opinion on the subject.
According to the University, it took 18 months of cooperation with stakeholder groups to create the said list. The publication referred to the manual as an Index of Forbidden Words.