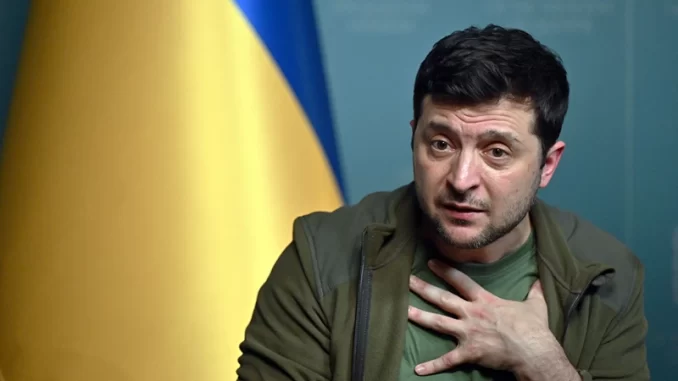 OAN Newsroom
UPDATED 3:06 PM PT – Friday, December 16, 2022
Ukrainian President Volodymyr Zelensky request to share a message of world peace before the World Cup Finals on Sunday is rejected by FIFA.
Zelensky had proposed to the sports organization that prior to the game, he would appear on video to fans at Lusail Stadium in Qatar. This request was rebuffed and it is unclear if the message would have been live or pre-recorded.
In the past, Ukrainian representatives have used major world events to provide awareness about the ongoing war, the request is not out of left field. Zelensky, himself, has made virtual appearances at various types of events from the Grammy's and Cannes Film Festival to the Group of 20 Nations Summit. His appearances have also included interviews with famous entertainers and journalists such as Sean Penn and David Letterman, in order to rally support for the nation.
FIFA and the World Cup have already been under some heavy political fire for the event being held in Qatar. This is due to the nation's stance on the LGBTQ+ community, the treatment of migrant workers and women, in addition to many other human rights issues.
"We are a global organization and we don't discriminate against anyone," said FIFA Chief, Gianni Infantino.
Due to the political climate in Qatar, players were banned from wearing gear supporting the LGBTQ+ community, along with the ban of alcohol from the stadium. The organization created restrictions by removing all the Russian teams from being able to participate and made an exception for the Palestinian flag.
Since the World Cup is a universal event the organization does not want to isolate or speak out towards any one group or nation. At a conference Friday, Infantino enforced this by stating that FIFA had stopped "political statements" because the organization has a responsibility to "take care of everyone."
"We are defending values, we are defending human rights and rights of everyone at the World Cup. Those fans and the billions watching on TV, they have their own problems," said Infantino. "We have to give them a moment when they can forget about their problems and enjoy football."
FIFA maintains that their goal is to relate to their fans and have the football event provide a form of escapism for them. Even though the request for Zelensky's has been rebuffed, there are still talks going on between FIFA and Ukraine.