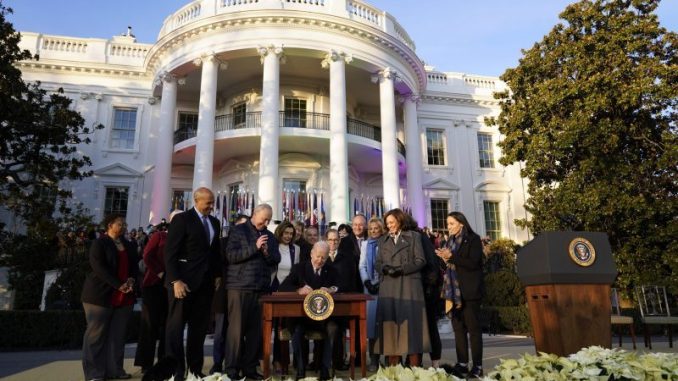 OAN Newsroom
UPDATED 2:43 PM PT – Tuesday, December 13, 2022
President Biden has signed the Respect for Marriage Act into law. The Act protects same-sex and interracial marriage.
The signing ceremony took place on The South Lawn on the White House on Tuesday. The event was attended by many notable names including singers Sam Smith and Cyndi Lauper. Smith, who identifies as non-binary, sang their song "Stay With Me." Lauper sang her hit song "True Colors."
Other notable guests at the signing included Club Q founder Matthew Haynes, two survivors from the Club Q shooting, a survivor from the 2016 Pulse nightclub shooting and plaintiffs and counselors from the Obergefell and Loving Supreme Court cases.
Before Biden signed the legislation, he made a quick speech to the crowd.
The Act was passed by a bipartisan coalition in Congress. The Senate passed it in a 61-36 vote. It was then sent to the House where it passed in a 258-169 vote.
Ten years prior to this signing, as a senator, Biden voted to block federal recognition of same-sex marriage. At the time he also said he believed marriage should only be between a man and a woman.