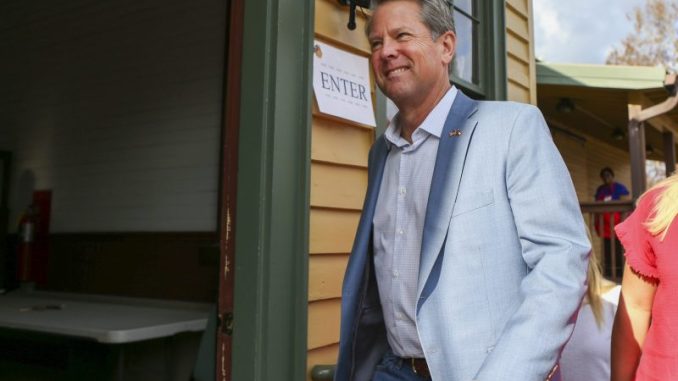 OAN Newsroom
UPDATED 9:54 PM PT – Tuesday, November 8, 2022
The intense race between incumbent Brian Kemp (R-Ga.) and Stacey Abrams (D-Ga.) has come to an end. Brian Kemp claimed victory over Stacey Abrams in Georgia's gubernatorial race.
Prior to entering the political sphere, Kemp built his first business, Kemp Development and Construction Company, from the ground up and has since become a successful entrepreneur.
Kemp was appointed to the Georgia Secretary of State office by Gov. Sonny Perdue (R-Ga.) in 2010, where he was elected to a full term and re-elected in 2014. He was then appointed as the state's 83rd Governor in 2018 and ensured to prioritize the livelihood of hardworking Georgians.
Kemps campaign focused on continuing to put the lives of hardworking individuals first and ensuring Georgia remains a safe, strong place for people to live, work and raise a family.
Abrams, on the other hand, is a Mississippi native who has earned degrees from Spelman college, The University of Texas and Yale Law School. She served as a member of the Georgia House of Representatives from 2007 to 2017, and assumed the position as House Minority Leader from 2011 to 2017.
She gave up her position to run for governor in 2018, but narrowly lost to Kemp 50-49%.
While back on the campaign trail, Abrams focused on supporting Georgians by expanding Medicaid, tackling affordable housing, investing in education and supporting small businesses.
The two candidates shared intense debates by going over top issues amongst Georgia voters including high crime, inflation, abortion and the Second Amendment.
On her campaign website Abrams said, "Brian Kemp is a far-right extremist who is too dangerous for Georgia. His extreme and unpopular agenda hurts Georgians."
Meanwhile according to Kemp, thanks to his policies, unemployment rates are at all-time lows in the Peach State and businesses are thriving.
"Americans are hurting right now because of the disastrous policy agenda by Joe Biden and the Democrats that have complete control of Washington, D.C.," Kemp said. "Thankfully in Georgia, because we were open even when Abrams didn't want us to be, our economy has been incredibly resilient.