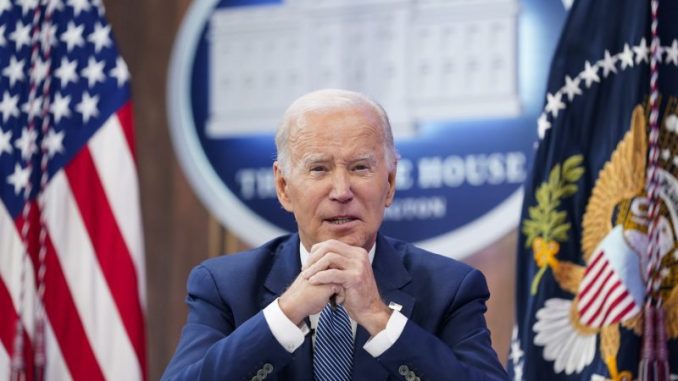 Chanel Rion – Chief White House Correspondent
UPDATED 1:08 PM PT – Tuesday, October 11, 2022
Friday, on the cusp of a 3-day weekend, President Biden signed an Executive Order lifting restrictions on how the government spies on US citizens. The move garnered little media attention or controversy – just as the White House had hoped.
But the ramifications of this order are raising major questions. 
Biden partially revoked Presidential Policy Directive 28 – a directive governing how federal agencies used signals intelligence to spy on citizens. Signals intelligence includes phone calls, text messages, emails, and internet use. 
The original rule, established under President Obama, restricted the government from arbitrarily spying on US citizens. If the government were to spy on US citizens, the government was required to apply through the courts for permission. Policy Directive 28 was essentially a way to keep government minimally accountable as it played the role of Big Brother government listening in.
Biden essentially lifted these restrictions Friday – including revoking a provision that would prevent the government from targeting its political enemies and critics:
"The United States shall not collect signals intelligence for the purpose of suppressing or burdening criticism or dissent."
The Biden Administration has offered little explanation as to why this rule was quietly revoked. 
Critics, however cite this move as a travesty against civil liberties – citing Biden's new executive order as an expansion of government spying on US citizens without oversight.
That the move would help Biden further politicize the FBI and US intelligence agencies and allow the administration to plow full speed into prosecuting its critics and personal enemies lists.
For some perspective; the original presidential directive was responsible for requiring the government to procure FISA warrants. That is, a court document approved by a judge establishing the government's probably cause – and in turn, giving the government license to spy on US citizens in the name of national security. 
As of Friday and Biden's revocation of this order, Biden has now made it so FISA warrants are no longer necessary. The FBI, CIA, IRS, NSA, can all now claim their own probably cause in order to spy on your personal data… and potentially use it against you.
In a climate where these agencies are credibly accused of being compromised and extended arms of the Democratic Party, the fear now grows that conservatives who hold influence will now be targets of legalized spying by the current Biden Regime and future administrations – regardless of who holds the power in Congress.