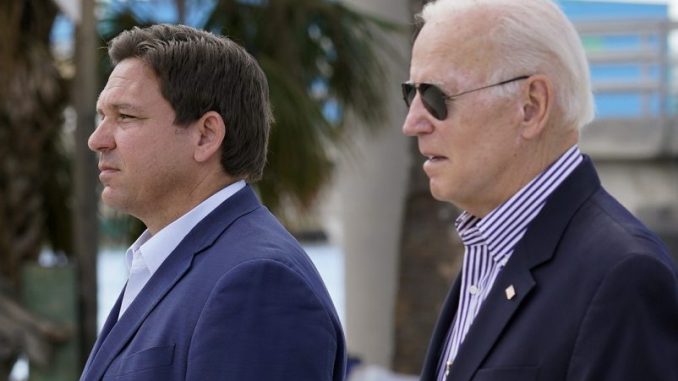 OAN Newsroom
UPDATED 6:50 PM PT – Thursday, October 6, 2022
On Wednesday, in Fort Myers Beach, Florida, President Joe Biden appeared on stage with Florida Governor Ron DeSantis (R-Fla).
There, DeSantis said that he appreciates the cutting of red tape in order to be able to get things done, from the local government all the way up to the White House. Biden complimented DeSantis's handling Hurricane Ian and promised the people of Florida that they will recover from the damage that Hurricane Ian has caused.
"I want the people of fori- — Florida to know: You have my commitment and America's commitment that we're not going to leave," Biden said. "We're going to see you through this entire process and it's going to take a hell of long time, hopefully without any snags in the way."
Despite his touting of federal aid, Biden told reporters that withstanding future storms is still in the hands of local jurisdictions.
"We've got to change the way we build and where we build," Biden said. "The question every community is going to have to ask, is should we rebuild in this spot or that spot? Will it be able to withstand what is likely to come again? That's a local decision."
Hurricane Ian has claimed the lives of more than 100 Floridians. The storm has left more than 400,000 homes and businesses without power.
Off the podium, Biden was caught on a hot mic speaking to Fort Myers Beach Mayor Ray Murphy in a R-rated exchange.