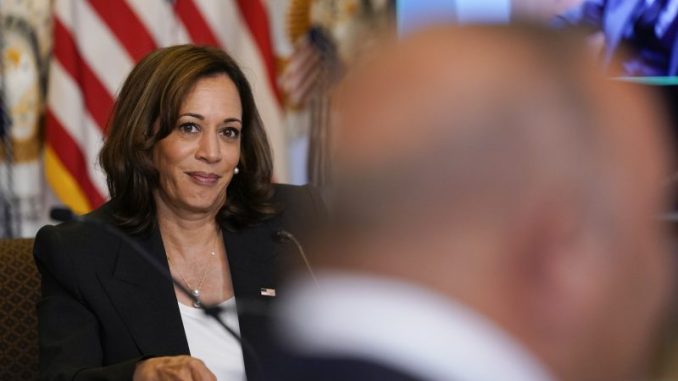 OAN Newsroom
UPDATED 3:33 PM PT – Tuesday, September 13, 2022
The White House's second in command has a very different vision for America than its founders. Vice President Kamala Harris said that the southern border is secure but has claimed that the Supreme Court is a threat to the United States.
Harris made these statements while on Meet the Press with Chuck Todd over the weekend. There, Todd pressed the border czar on the nearly two million known border crossings during her tenure. The Vice President asserted that the nation's boundaries are stable. She blamed the Trump administration for the influx of illegal immigrants.
"We have a secure border and that is a priority for any nation including ours in our administration," Harris said. "But there are still a lot of problems that we are trying to fix given the deterioration that has happened over the last four years. We also have to put in place a law and a plan for a pathway for citizenship."

Harris also blamed Republican governors for playing politics with people's lives. The Democrat asserted that Americans should be more concerned than they are with the recent rulings from the Supreme Court. She called the judicial body an activist court and then lambasted them for returning the abortion policy back to the states. The Californian claimed such a decision to be a threat to the American system. Harris said Democrats must eliminate the filibuster to protect democracy by ramming their agenda through both houses with a slim majority.
"The President has been clear on this issue and on a very important issue in addition to that important issue which is voting rights," The Vice President said. "And the President has been very clear, he will sign into law and not let the filibuster get in the way, the John Lewis Voting Rights Advancement Acts and the Freedom to Vote Act." 
Harris also warned that election deniers pose a threat to the country. This comes as she and the Democrats gear up to increase their majorities in the House and Senate. However, when Todd asked Harris why Democrats elevated Republican opponents who question the 2020 election, the Vice President dodged the question and touted her own campaign record.
"You're not worried that this reflects poorly on the Democrats?" Chuck Todd grills VP Harris over Democrats backing hard right candidates in the hopes of better general election chances. pic.twitter.com/kAdtIMjYpt

— Virginia Kruta (@VAKruta) September 11, 2022
Harris was polling in the single digits before exiting the 2020 Democrat presidential primary. She bowed out before she could appear on a ballot in her home state of California. According to Five Thirty Eight, as Vice President, she has an approval rating of 38-percent.