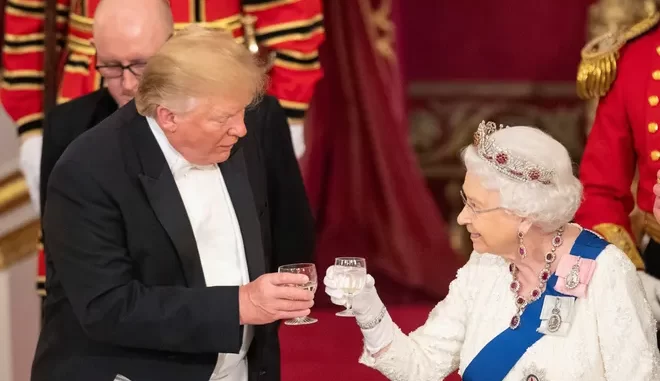 OAN Newsroom
UPDATED 2:45 PM PT – Thursday, September 8, 2022
45th President Donald J. Trump has described the Queen's reign as historic and remarkable. In a statement on Thursday, Trump and former First Lady Melania announced that they are deeply saddened by her passing. Trump said he will always treasure his time with her and that he appreciated Queen Elizabeth's generosity and great sense of humor. The Republican also praised the Queen's unwavering devotion to her fellow countrymen and women.
President Trump honors Queen Elizabeth's" "remarkable reign" that "left a tremendous legacy of peace and prosperity for Great Britain." pic.twitter.com/tpCzyxa4Fn

— Mollie (@MZHemingway) September 8, 2022
Her Majesty Queen Elizabeth II first took to the throne in 1952. She was 25 year old at the time. Throughout her 70 years as Queen, she had met with 13 of the 14 United States Presidents who held office during her reign. The Queen met with the 45th President back in 2018 and in 2019.
70-year reign.

14 U.S. presidents.

1 extraordinary life.

Queen Elizabeth II will be remembered for her strength, poise, and grace. My deepest condolences go out to The Royal Family. pic.twitter.com/JnYM8a1DlL

— Kimberly Guilfoyle (@kimguilfoyle) September 8, 2022
Archival footage: Queen Elizabeth II officially welcomes then-U.S. President Donald Trump. pic.twitter.com/e7QZGCl4v8

— The Hill (@thehill) September 8, 2022