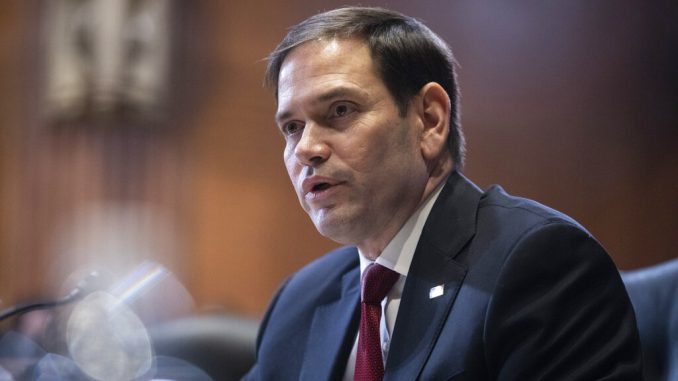 OAN Newsroom
UPDATED 6:31 AM PT – Wednesday, September 7, 2022
GOP Florida Sen. Marco Rubio is prepared to slug it out against Democrat challenger Rep. Val Demings to retain his seat. In August, Demings trounced her three primary opponents winning 85 percent of the vote.
Demings has served three terms in Congress and was the chief of Orlando police department from 2007 to 2011. However, despite her law enforcement background, the Fraternal Order of Police and multiple Florida sheriffs have put their weigh behind Rubio. This is likely due to Deming's close ties to "defund the police" Democrats, who's policies have ushered in crime waves throughout America's cities.
"The other candidate in this race, however, Val Deming's turned her back on her profession and she stood with the soft on crime crowd in Washington D.C.," stated Brevard County Sheriff Wayne Ivey. "And in doing so, put our citizens and our law enforcement officers at risk. For someone who claims to have been a cop and to have worn the badge; what she did in Washington D.C. to support criminals forever tarnished any badge she ever wore. And sadly, she did it to further her own political career."
Demings has been a large proponent of "re-imagining policing" and supported the Minneapolis City Council's move to disband its police department. On the economic front, Demings has been a supporter of the large spending packages that preceded the current economic recession. The representative has specifically touted the passing of the Inflation Reduction Act, which she says is doing exactly what it was intended to do.

Sen. Rubio, by contrast, has positioned himself as a fiscal conservative who claims Democrats' spending has done nothing but cripple the working class.

Demings is a vocal supporter of abortion, believing the procedure should be performed until the point of birth and funded by the government. Rubio has called her stance outrageous. He supports the right to life, but recognizes the statute of state's rights guaranteed by the Constitution.
"I am in favor of laws that protect human life," stated Rubio. "I do not believe that the dignity of worth of human life is tied to the circumstances of their conception, but I recognize that's not majority position. And therefore, I've always said I support bills that have exceptions. "
The Republican Party's de facto leader is the most polarizing topic for the two candidates. Demings was an impeachment manager against President Donald Trump and has claimed Rubio's opposition to the Mar-a-Lago raid means he doesn't truly back the blue.
Rubio, however, has come out against the raid while labeling it a gross overreach by the Biden DOJ to knee cap a political opponent.
"This raid was about trying to disqualify a likely future election opponent, about trying to intimidate Republicans who oppose the left and about creating a distraction from Biden's failures," said the Florida lawmaker.
Although he ran against Trump for president in 2016, Rubio shares his strong stances on the border and foreign policy with a commitment to economic de-regulation. Meanwhile, Demings is a proponent of Biden's so-called green agenda and large government spending plans.
Floridians will choose which view is preferable for the Sunshine State when they head to the polls.