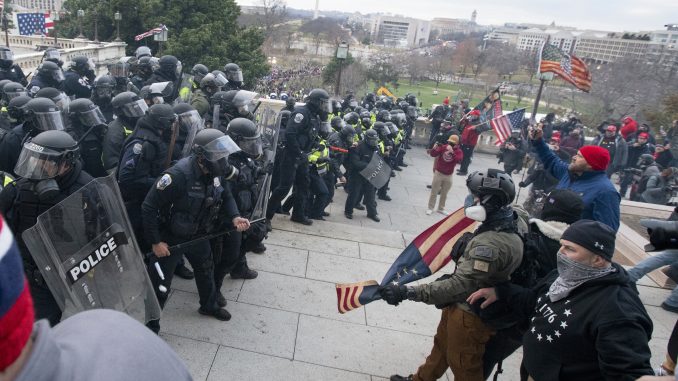 OAN NEWSROOM
UPDATED 2:00 PM PT – Thursday, July 7, 2022
A Republican gubernatorial hopeful in Michigan plead not guilty to several charges related to the January 6 capitol protest.
Ryan Kelley entered the plea on Thursday to four misdemeanor charges which include entering or remaining in a restricted building or grounds. This comes after the FBI raided his home last month and arrested him. He has since been released.
"The FBI did raid my house in front of my wife, in front of my children, put on this big theater show for misdemeanor charges," said Kelley. "It was the same day that they started their January 6 witch hunt committee."
A criminal complaint filed by the FBI alleged that Kelley climbed onto an "architectural feature" of the Capitol and waved other rioters to continue forward. The FBI also said Kelley supported a rioter who pulled a metal barricade onto scaffolding and that he took photos of blood on Capitol grounds. Court documents dated June 22 said he is accused of destroying a tarp covering scaffolding on the Capitol. The damage was valued at less than $1,000. Authorities do not allege that Kelley entered the building.
In the Republican gubernatorial debate on Wednesday, Kelley said he was in Washington during the riot but he argued his actions were protected by the First Amendment.
His campaign claimed the charges are political persecution against him brought on by Democrat leaders in the state, including Governor Gretchen Whitmer (D-Mich.).
Michigan GOP gubernatorial hopeful Ryan Kelley returns to court (virtually) in his Capitol breach case on September 22nd.

(Less than 50 days before Election Day… if he wins the primary) pic.twitter.com/aA39l2kkOg

— Scott MacFarlane (@MacFarlaneNews) July 7, 2022
He faces up to 10 years in prison if convicted of all four charges.