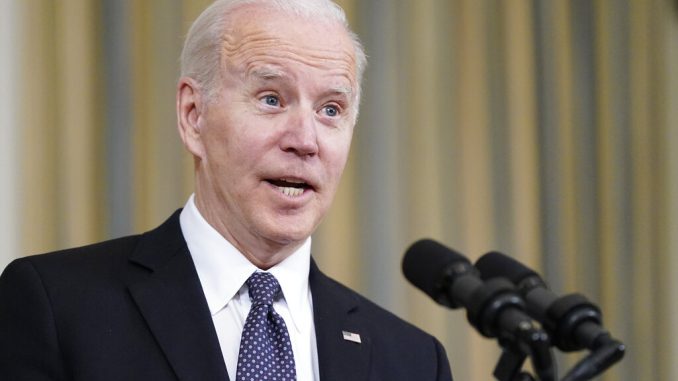 OAN Newsroom
UPDATED 11:01 AM PT – Friday, April 22, 2022
President Joe Biden kicked off his West Coast media trip in Portland. During a press conference on Thursday, he delivered remarks on the investment that has been made at Portland International Airport thanks, in part, to the bipartisan infrastructure law.
Biden was introduced by Lauren Heitzman who had several jobs before she became an apprentice electrician with Local 48 of the International Brotherhood of Electrical Workers. The President took the stage and attempted to drum up enthusiasm for the bipartisan infrastructure bill by bragging about how he wrote the original version with "his own paw."
"Through the bipartisan infrastructure bill, which I might add I wrote the original one with my own paw, I wrote it…because I was convinced there was no other answer other than beginning to invest in our country again," he stated.
Biden continued to explain his infrastructure plans, saying this year $25 billion will be invested to modernize airports across the country with Oregon getting $211 million in funds.
"Because of the infrastructure law we are going to see modern baggage claim area, improved taxiways and yes better escalators," Biden continued.
However, some of the logistics of the bipartisan infrastructure law came into question when he suddenly appeared to lose his train of thought. Meanwhile, Biden continued his Pacific Northwest trip having arrived in Seattle, Washington on Thursday.