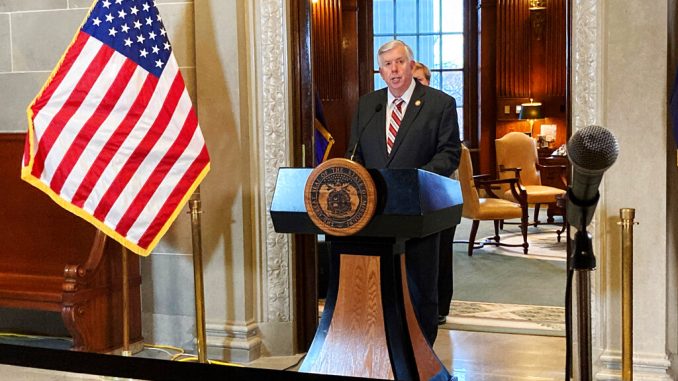 OAN Newsroom
UPDATED 9:19 AM PT – Thursday, March 31, 2022
Missouri is ending its COVID-19 emergency designation and will transition to an endemic phase of the pandemic. During a press conference on Wednesday, state Governor Mike Parson (R) said that Missouri will begin treating the virus as an endemic starting on Friday.
Parson asserted Missouri has learned a lot over the past two years, but noted the virus shows no sign of completely going away. He explained that this means there's no need to continue living life in "crisis mode."
Moving on: Today, we announced an end to the COVID-19 crisis in Missouri and that the state will be shifting to an endemic phase of the pandemic on Friday, April 1, 2022. https://t.co/PkYD5HU242 pic.twitter.com/CYarTlPdln

— Governor Mike Parson (@GovParsonMO) March 30, 2022
"Endemic does not mean the end, it refers to the constant presence of the disease within a population or geographic area just as Influenza, HIV, Tuberculosis and Strep Throat are endemic in our country," explained Paula Nickelson, Acting Director of the Missouri Department of Health and Senior Services. "Entering an endemic phase does not mean there will not be future periods of increased cases and medical surges."
Nickelson stressed the new approach will allow local and state officials to closely monitor the virus and hotspots without imposing overbearing restrictions on residents.