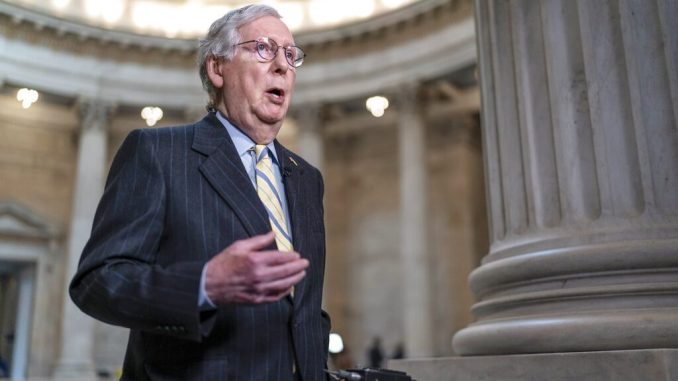 OAN Newsroom
UPDATED 8:31 AM PT – Friday, March 25, 2022
Senate Minority Leader Mitch McConnell (R-Ky.) said America must invest in a future of strong leadership against threats abroad. The top Republican recently discussed military production, defense funding and American leadership as the Russia-Ukraine crisis intensifies.
While speaking on the Senate floor Thursday, McConnell said he believes Ukrainian forces can win against Russia without American boots on the ground. However, he claimed President Joe Biden must send Ukraine more weapons and ammunition.
"Ukrainian forces can win this fight," asserted the senator. "Let me say that again, Ukrainian forces can win this fight, but they need more weapons, more ammunition, more fuel, and they need it all as fast as possible."
McConnell also noted, Russian President Vladimir Putin's attacks against Ukraine has discredited politicians who called for pulling America away from the world stage. He warned every day that Biden fails to demonstrate clear American leadership, the nation's adversaries overseas are growing more empowered. As a notable example, he mentioned China.
"There's nothing remotely prudent or sensible about handing over entire regions of the world to these thugs," he stated. "The natural security interests of the United States never stop at our own borders and they certainly do not today."
McConnell said the Biden administration must invest in a self-reliant future by increasing domestic energy production and defense spending.
"We will see if the President finally commits to investing in a future of strong American leadership," noted the Senate Minority Leader. "Our global challenges are not partisan issues, they're American issues. I sincerely hope that the Commander-in-Chief of our Armed Forces submits a defense budget request that reflects this reality."
Looking ahead, the Biden administration is set to send their budget request for the next fiscal year on Monday.