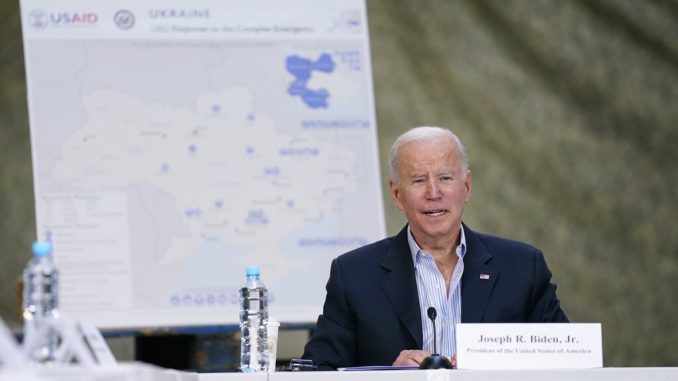 OAN Newsroom
UPDATED 9:57 AM PT – Friday, March 25, 2022
President Joe Biden recently discussed the initiative between the EU and United States to decrease European dependence on Russian energy.
While speaking from Brussels ahead of his trip to Poland Friday morning, Biden alleged Russia has used its energy resources to coerce as well well as manipulate its neighbors and used the profits to drive President Vladimir Putin's war machine. He said this is why he cut U.S. ties with Russian oil and gas earlier in the month, saying the U.S. could when others could not because it's a net exporter of energy with strong domestic industry.
Biden added, eliminating Russian gas will have costs for Europe, but it's the right thing to do from a moral standpoint. He went on to suggest the crisis in Europe is an opportunity to push green energy policies. This all while Republicans have been urging the administration to bring energy independence back to the United States.
"These steps will increase energy security, economic security and national security," Biden stated. "And we're going to set up a joint task force to implement these changes and drive progress that will be co-chaired by representatives from the White House and the President of the European Union's team."
Biden also said he believes Russia should be removed from the G20 group. He said if other member nations didn't agree to removing Russia, Ukraine should at least be allowed to attend the meetings. Biden then urged other countries to stay "fully and totally united" against Russia.
Meanwhile, experts at the Ron Paul Institute found statements from the NATO summit in violation of NATO's formal objectives. According to the institute's executive director, Daniel McAdams, NATO charter says it will pursue peaceful and non-violent means to resolve disputes in third-party countries. However, he pointed out that NATO providing weapons, intelligence and military training to Ukrainian government are not peaceful actions.
Why Is NATO Violating Its Own Charter & Doing The Opposite of What It Was Founded To Do?

Watch the whole show here: https://t.co/sssxFcfyUB pic.twitter.com/ap4LLWEtIJ

— Ron Paul (@RonPaul) March 24, 2022
Dr. Ron Paul said NATO's rhetoric fuels further escalation in tensions with Russia. He explained that tough statements and anti-Russian rhetoric serve the only purpose of making profits for military contractors. He added, NATO officials hardly realize how dangerous their actions are.