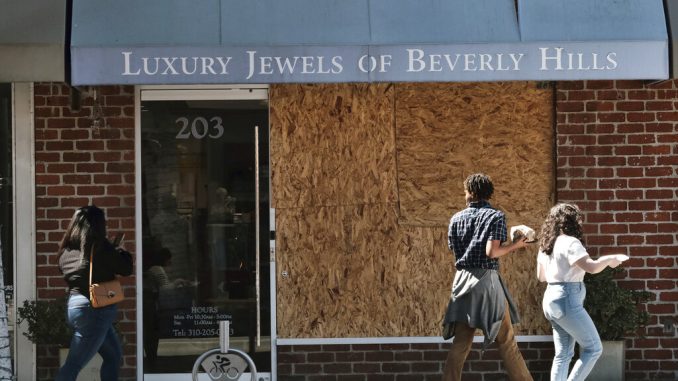 OAN Newsroom
UPDATED 8:40 AM PT – Thursday, March 24, 2022
A group of unidentified smash-and-grab thieves robbed a jewelry store in broad daylight and made off with millions of dollars worth of jewelry. Police were called to investigate the incident at Luxury Jewels of Beverly Hills on Tuesday afternoon after at least five armed individuals broke through the front window with a sledgehammer and proceeded to rob the place.
"I was sitting in my office and I heard what I thought was gunshots," recounted store owner Peter Sedghi. "Really loud, literally sounded like gunshots. So I told my staff, I yelled out, 'everyone on the floor!' I got on the floor, pushed the panic button. I waited until what I thought were gunshots stopped. I grabbed my gun and I came running out."
The group reportedly arrived in a stolen vehicle wearing hooded sweatshirts and surgical-style masks. They stole an estimated $3 million to $5 million worth of merchandise. The suspects then fled the scene in a different vehicle, which was later determined to be a white Audi sedan.
"The suspects fled on foot, however, they left the vehicle that they traveled to the location behind," stated Lt. Giovanni Trejo, Beverly Hills Police Department. "That vehicle was reported stolen out of a location in the city of Long Beach. We, at this point, detectives are following up on all the leads. We believe that there was another vehicle that was used. The only preliminary information on that vehicle we have on that vehicle that I have right now is that it was a white Audi."
although the suspects remain at large, a neighboring store owner was able to trip one of the burglars and recover several stolen watches. Luckily no injuries were reported, but several within the community are now worried about the safety of businesses.
"I was sitting at my desk and I heard a loud bang, so I thought it was a gunshot, but then I look up and I see the guys with sledgehammers breaking the window," explained Luxury Jewels employee Cindy Delaguerra. "I got down. I was pressing the alarm button and Peter, I just told him to shoot them. I go, just get your gun and shoot them. I said shoot them. And by the time he came out, they were just gone."
Meanwhile, police say robberies in the Los Angeles area alone have increased by 18 percent over this past year.