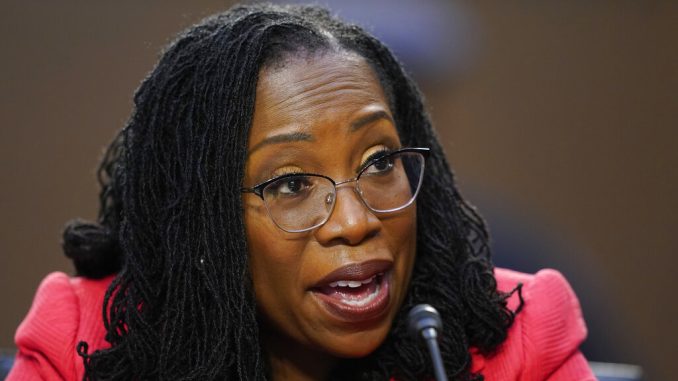 OAN Newsroom
UPDATED 11:12 AM PT – Tuesday, March 22, 2022
Supreme Court Justice nominee Ketanji Brown Jackson was questioned by the Senate Judiciary Committee about her judicial record as well as her views on several issues. She appeared before the panel Tuesday in the second day of her confirmation hearings on Capitol Hill.
The nominee addressed concerns she did not follow federal sentencing guidelines in cases involving child pornography offenders. Jackson asserted she understands how horrible the crime is and has placed adequate restraints on those convicted. She also emphasized the importance of being impartial while ruling on cases.
"Over the course of my almost decade on the bench, I have developed a methodology that I use in order to ensure that I am ruling impartially and that I am adhering to the limits on my judicial authority," stated the Supreme Court nominee. "I am acutely aware that as a judge in our system, I have limited power and I am trying in every case to stay in my lane."
Judge Ketanji Brown Jackson on her judicial philosophy: "It's very important that judges rules without fear or favor." pic.twitter.com/qVYivsF6i5

— CSPAN (@cspan) March 22, 2022
Jackson was also questioned about court-packing, but declined to give her stance on the issue. She also made her stance on the Second Amendment clear.
When asked by Sen. Chuck Grassley (R-Iowa)  whether the right to bear arms is a fundamental one, Jackson pointed to the Supreme Court's ruling on the matter. She said it has been established by the nation's highest court to be a fundamental right. Gun rights appear to be a blank space on Jackson's resume, but pro-gun control groups have signaled their support for her while the NRA remains skeptical.
Will Ketanji Brown Jackson protect freedom or restrict it, defend the Second Amendment or roll over to Democrats who want a disarmed citizenry, and will she protect innocent life or act as a super-legislator?

That's what the focus of this hearing should be. pic.twitter.com/WuwWY0tpwK

— Senator Ted Cruz (@SenTedCruz) March 22, 2022