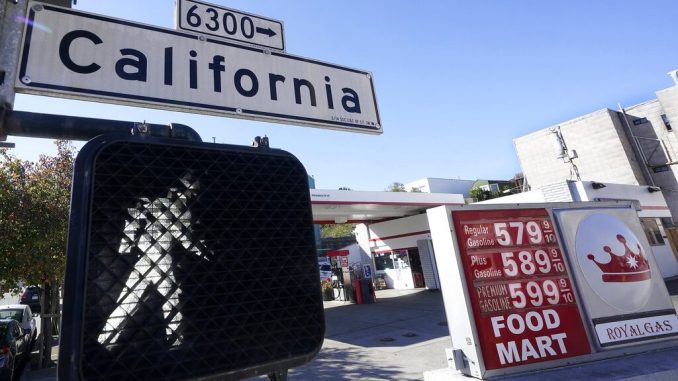 OAN Newsroom
UPDATED 8:00 AM PT – Monday, March 21, 2022
Rising gas prices are fueling thieves to take extreme measures. The stealing of gas is also on the rise across a number of states as more Americans are struggling to afford fuel.
According to reports, the number of gas thefts skyrocketed in California, Illinois, Texas and at least seven other states. An expert from AAA cautioned people to be on the lookout while at the pump.
"This is a sign of the times, you know, it's thieves looking for ways they can make money by stealing what is becoming an increasingly more expensive and valuable commodity — gasoline," said Doug Shupe, AAA employee.
Thieves are also getting creative when it comes to stealing fuel with some going as far as drilling holes into the tanks of vehicles, which can cost up to $1000 to repair.
Multiple reports say gas thieves are even stealing fuel from under ground tanks at gas stations through a trap door inside their trucks. A Los Angeles gas station manager, Jerry Thayil, said 360 gallons of fuel was stolen in just three days.
"The van drives on top of the fuel tank and then that's all you see," Thayil explained. "No one comes out, so they have a trap door inside their vehicle, which is crazy."
AAA recommends people park their cars under bright lights or inside a parking garage to discourage thieves from targeting them. The organization also advises looking out for tell tale signs such as a check engine light, the smell of fuel inside the vehicle or a puddle on the side of the tank.
Kevin McCarthy has been damn near clairvoyant on the issue of gas prices and inflation during the Biden presidency.

If we win BIG in the midterms, he deserves a lot of credit for signposting these issues. https://t.co/YlgdOVUEB1

— Matt Gaetz (@mattgaetz) March 18, 2022
In the meantime, customers at gas stations around the country are becoming frustrated as they see the number at the pump rising every week. Overall, average U.S. gas price rose to $4.31 last week, which is more than a 60 percent surge from a year ago.