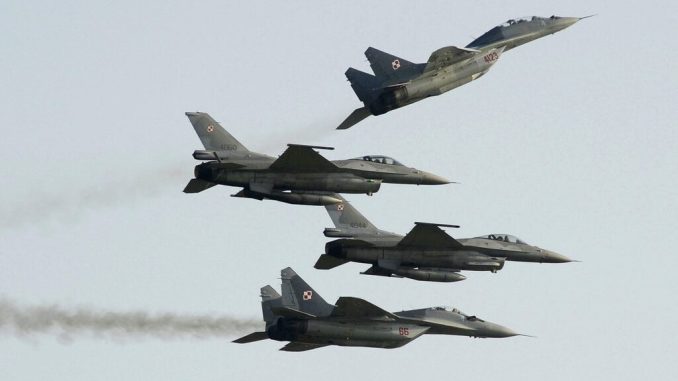 OAN Newsroom
UPDATED 1:42 PM PT – Monday, March 14, 2022
Russia's invasion of Ukraine has been bloody and unceasing since first beginning over two weeks ago. One proposal has received major attention in recent days, which is for Poland to give its MiG-29 jets for Ukraine to use while the U.S. gives Poland replacement jets.
On Sunday, National Security Adviser Jake Sullivan said that the White House is considering the MiGs to be offensive weapons.On part of this, the federal government feels such a move could place the U.S. in the middle of the conflict while also escalating it.
"But the key thing here is that President Biden looked at the assessment of our Intelligence Community, took the advice of his military commanders, consulted with his NATO allies, and ultimately determined that the cost benefit analysis did not justify flying fighter planes from a U.S. base in Germany into contested airspace," Sullivan explained.
Sen. Rob Portman (R-Ohio) disagrees with this assessment. He, alongside other senators, traveled to Poland and has advocated from Washington and Poland for the transfer of the MiG jets. According to him, it doesn't matter what Russia says about this causing an escalation as they claim everything NATO does is an escalatory action.
"The Russians have complained about everything," said Portman. "Vladimir Putin has said that the sanctions are an act of war. They certainly complained when we provided Stingers directly from the U.S. government, which can knock down an airplane and have been successful in doing that at lower altitudes. We have given them helicopters. As recently as January, we provided them U.S. military helicopters."
Great meeting with USAID who are doing fantastic work in Ukraine to provide humanitarian assistance to those who need it most. pic.twitter.com/ycr8KDj1WI

— Rob Portman (@senrobportman) March 13, 2022
Republicans aren't the only ones who are going against the White House. Democrat Sen. Amy Klobuchar (D-Minn.) has also been advocating for the transfer of the planes. While speaking from Poland as well she said she understands the White House position, but still will be pushing for the transfer.
"I made clear to them, I spoke to the President himself about 10 days ago about this," Klobuchar explained. "I'd like to see the planes over there, but remember things shift. As things become a target, because there's so much public discussion about them, that can become an issue itself."
While the White House is ruling out, for now, the transfer of the jets, billions of dollars in weapons sales and humanitarian aid is still flowing into Ukraine as they fight back against Vladimir Putin's ongoing assault on their nation's sovereignty.