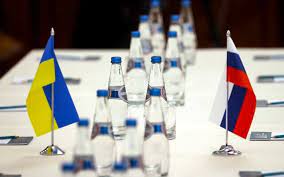 OAN Newsroom
UPDATED 9:56 AM PT – Monday, March 14, 2022
The managing director of the International Monetary Fund (IMF) anticipates a deep recession in Russia as the nation's economy continues its downward spiral. In an interview on Sunday, Kristalina Georgieva said the impact of sanctions have been quite severe for the Russian economy and the ruble has significantly depreciated.
She noted, the organization expects a deep recession. Georgieva also pointed out incomes are already shrinking in Russia and the Russian population is losing purchasing power. The IMF managing director also suggested Russia may default on its foreign debt.
"In terms of servicing debt obligations, I can say that no longer we think of Russian default as improbable event," Georgieva explained. "Russia has the money to service its debt, but cannot access it."
The official also said the organization's interactions with Ukraine have been very productive and praised the Ukrainian government for how it's handled emergency funding provided to them.
Meanwhile, Russia is preparing for the fourth round of talks with Ukraine. It's foreign ministry said the new round of peace talks will begin in Belarus. Moscow reiterated its peace proposal, saying Ukraine must de-militarize and accept a non-aligned status in global affairs.
Over the past two-weeks, Russian forces established control over 89 cities in Eastern and Southern Ukraine as well as neutralized 90 percent of Ukraine's military infrastructure. This comes as new reports appear to support Russia's concern about extremist groups working with the Ukrainian government.
❗️The first troops to be trained by US and British soldiers were the neo-Nazi Azov Battalion@georgegalloway pic.twitter.com/FsWhpSPvyg

— Russie en France (@AmbRusFrance) March 13, 2022
Russia said Kyiv must expel extremist groups from its military and government as well as allow the Russian language to be spoken freely in Ukraine.