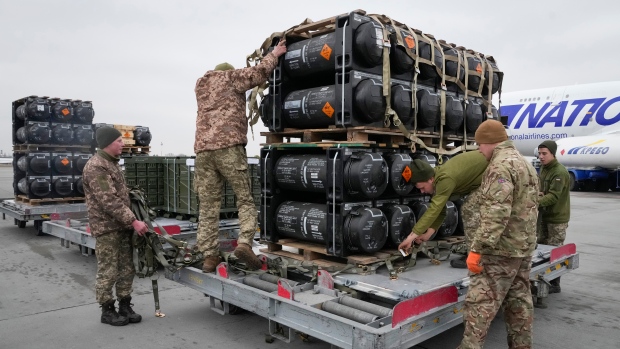 OAN Newsroom
UPDATED 11:11 AM PT – Wednesday, March 2, 2022
The Javelin anti-tank guided missile system is reportedly a game-changer for Ukrainian forces. The FGM-148 Javelin created by Raytheon and Lockheed Martin is a man-portable, anti-armor guided missile system with a range of more than 8,000 feet.
The U.S. made weapon uses infrared guidance that allows the user to take cover immediately after firing. To date, Ukrainian forces have reportedly destroyed more than 200 tanks and nearly 900 armored Russian vehicles using these weapons.
#Ukraine: It is reported that a new supply of British NLAW and American FGM-148 "Javelin" anti-tank missile launchers arrived to Ukraine today. pic.twitter.com/zq1aRxSi0F

— 🇺🇦 Ukraine Weapons Tracker (@UAWeapons) March 1, 2022
In 2021 the U.S. supplied Ukraine with 30 Javelin systems and 180 Javelin missiles as part of its annual military aid and bolstered with subsequent munitions shipments. In recent days the "Saint Javelin of Ukraine" has become a powerful symbol of resistance.
St. Mary of the Javelin, defender of Ukraine. pic.twitter.com/MpZ0FD2LSL

— Antonio García Martínez (agm.eth) 🇺🇦 (@antoniogm) February 25, 2022