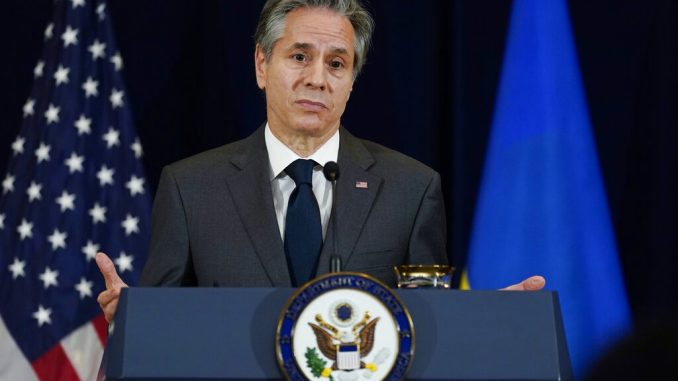 OAN Newsroom
UPDATED 10:24 AM PT – Friday, February 25, 2022
Secretary of State Antony Blinken said he's convinced Russian President Vladamir Putin will attempt to overthrow Ukraine's government. In an interview Thursday, he said the sanctions imposed by the U.S. and several European partners will have an immediate impact on Russia's currency and its markets.
Blinken added, other options remain on the table if Russia continues to escalate its attacks. The U.S. official said he's not in a position to comment on events on the ground, but said NATO countries are prepared if Putin tries to go beyond Ukraine.
"Is it a possibility that Putin goes beyond Ukraine? Sure, it's a possibility, but there's something very powerful standing in the way of that," Blinken stated. "That's something we call Article 5 of NATO. That means an attack on one member of NATO is an attack on all members of NATO. The President's been very clear that we will defend every inch of NATO territory. I think that's the most powerful deterrent against President Putin going beyond Ukraine."
Blinken said that whether it's in the short, median or long term, he's convinced that democracy and the independence of Ukraine will prevail.
Russia's forces of fear and oppression are not nearly as powerful as our forces of liberty, democracy, and human dignity. In the contest between sovereignty and subjugation, freedom will prevail. pic.twitter.com/TsJr1atcxj

— Secretary Antony Blinken (@SecBlinken) February 25, 2022
Meanwhile, US F-35 fighter jets landed at a Romanian air base as part of NATO's further bolstering of its eastern flank. Trucks carrying military vehicles arrived Friday at a base near Constanta, a city at the black sea that is located around 100-miles from the Ukrainian border.
On Thursday, NATO had ordered its military commanders to intensify their preparations to defend allied territories, putting hundreds of warplanes and ships on alert as well as agreeing to increase troop numbers on its eastern flank. An Air Force general said the aircraft deployment enhances NATO's defensive posture and amplifies the alliance's interoperability.