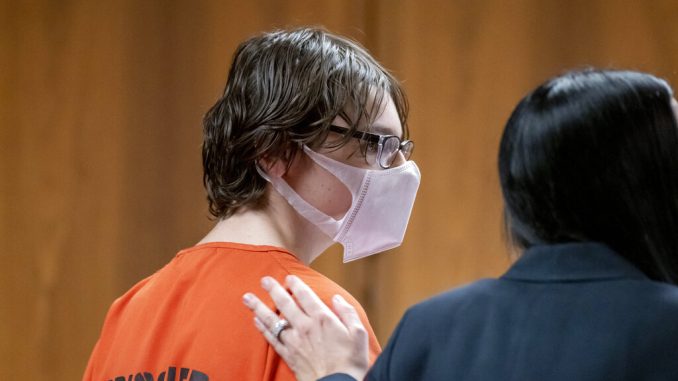 OAN Newsroom
UPDATED 9:32 AM PT – Thursday, February 24, 2022
Lawyers for Ethan Crumbley, the suspect in the Oxford High School shooting in Michigan, are requesting the teen to be transferred to a juvenile facility.
In a hearing Tuesday, defense attorney Paulette Loftin argued the 15-year-old should be moved to Children's Village Juvenile Facility for his safety. She said he should not be seen as a menace to other juveniles. Crumbly is being charged and housed as an adult. However, Loftin stressed the isolation he's currently placed in will be detrimental to his health.
"He is being housed currently in the clinic facility in the Oakland County Jail," explained the defense attorney. "It is essentially a cement cell with a glass door and because the rule is that he has to be out of sight and sound from adults, he has very little interaction with anyone…our testimony will be that this extreme isolation is actually not beneficial whatsoever and actually harms Mr. Crumbly."
His lawyers added, the teen showed concerning signs of mental illness before the shooting and had even asked his parents to see a therapist.
"In the time leading up to these events that my client was hallucinating, that he was seeing things, he was hearing voices, He was not sleeping, He was extremely anxious, he was not eating properly," Loftin noted.
However, assistant prosecutor Markeisha Washington argued Crumbley displayed interests well beyond an average 15-year-old and would pose as a potential risk at the facility.
"In a text read with his friend and in his journal, he outlined a plan to stalk rape, torture and ultimately kill a female classmate," Washington stated. "He expressed delight in torturing a family of baby birds. He spoke of his admiration for Adolf Hitler and Jeffrey Dahmer."
The assistant prosecutor went on to further emphasize how the teen demonstrated he can be calculating and has a desire to be remembered for his alleged crimes.
"The evidence will show that the defendant had a very specific and detailed agenda leading up to November 30," Washington continued. "In his journal, excuse me, he described the type of gun he needed, who his first victim would be and ultimately he expressed that he would surrender so that he could witness the pain and suffering that he caused."
A decision is expected to be handed down early next week. The teen pleaded not guilty last month and faces 24-counts, which includes murder and terrorism charges. Meanwhile, his parents, James and Jennifer Crumbley who also face four-counts of involuntary manslaughter each, are due back in court Thursday for a continuation of their preliminary hearing.