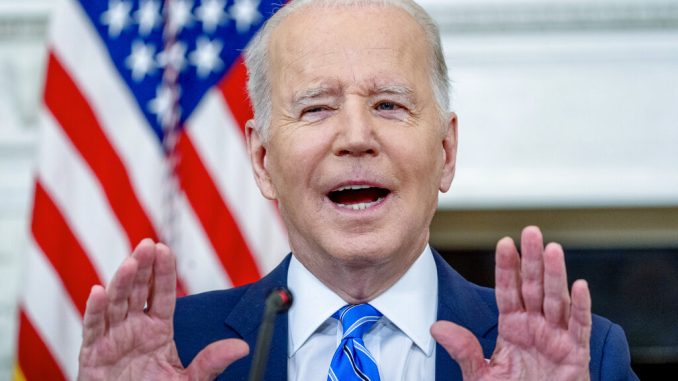 OAN Newsroom
UPDATED 11:58 AM PT – Thursday, February 24, 2022
Former congressman Ron Paul and his colleague Daniel McAdams are criticizing Joe Biden for shifting blame about inflation. While speaking on the Liberty Report Wednesday, Dr. Paul pointed out Biden is telling Americans they will face even higher inflation to defend the Ukrainian government. This comes as U.S. inflation rose to almost 8 percent over the past year.
Scapegoat! Biden Blames Inflation On…Putin!

Watch today's Liberty Report on:
YouTube: https://t.co/fP26S49SzW
Odysee: https://t.co/2WUeyj2ywt
Rumble: https://t.co/RGZCYVz37E pic.twitter.com/49Gx3b6xlG

— Ron Paul (@RonPaul) February 24, 2022
Paul said Biden's inflation happened due to his poor economic policies at home while foreign affairs is not the main reason. He went on to say the speculation of war and excessive focus on foreign policy are partially used to justify of economic problems facing America.
Meanwhile, Paul's colleague, McAdams, pointed out Biden's latest claim about inflation run in stark contrast with his comments at a press conference last November when he was confronted by a reporter about inflation. McAdams and Dr. Paul criticized Biden's shifting narrative and maintain the root cause of inflation is not that complicated.
Paul says excessive government spending continues to be the driver of inflation. He suggested Biden and the rest of Congress must simply stop the reckless spending and warned the average American is the one who ultimately pays the price.
Full Report: