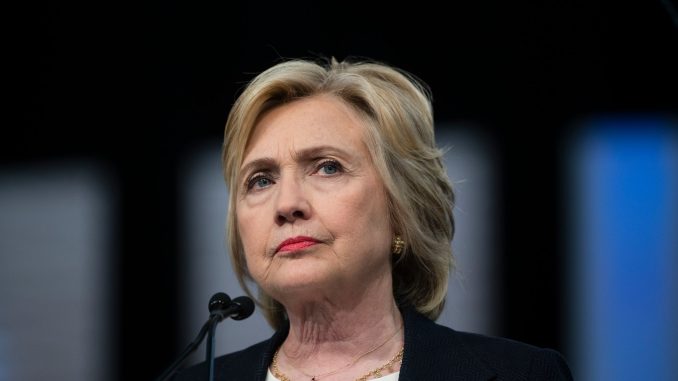 OAN Newsroom
UPDATED 8:59 AM PT – Wednesday, February 16, 2022
Hillary Clinton ignored questions from a reporter about her campaign's surveillance of 45th President Donald Trump. On Tuesday, she was confronted by a journalist from the Daily Mail who demanded answers about new developments in the Durham probe.
BREAKING: Hillary Clinton ignores questions from a Daily Mail reporter about revelations from Durham that her 2016 campaign paid for illegal spying on Donald Trump. pic.twitter.com/q351KxGO43

— X Strategies LLC (@XStrategiesLLC) February 15, 2022
While the bombshell findings seem to have left Clinton speechless, Trump weighed in during an interview on Tuesday. He stressed this is "just the beginning" of what's to come. Trump called on the Justice Department to declassify further details of the so-called Russia probe.
The 45th president said the DOJ should "absolutely" declassify the remaining records in the investigation and pointed out the agency is already under an order to do so. Trump previously ordered the declassification to begin back in 2019 during his administration, but the Joe's Biden's Justice Department appears to have made little progress on the issue.
Sen. Chuck Grassley (R-Iowa) and Sen. Ron Johnson (R-Wis.) fired off a letter to Attorney General Merrick Garland requesting more information on why they haven't followed through on the order. Meanwhile, several other Republican senators say Clinton campaign operatives will be held accountable for their actions amid the bombshell revelations from the Durham probe.
Specifically, Sen. Rick Scott (R-Fla.) called to hold Clinton accountable for spying on the 2016 Trump campaign and lying about the Russian collusion hoax. On Tuesday, he said the actions by Clinton-paid operatives uncovered by Special Counsel Durham is illegal and wrong.
Clinton spied & she lied. There must be accountability. pic.twitter.com/AWKcIZ47qf

— Rick Scott (@SenRickScott) February 15, 2022
The Florida lawmaker also pointed out that Democrat congressmen Jerry Nadler (D-N.Y.) and Adam Schiff (D-Calif.) are complicit in the Russia hoax. In response, Schiff's office accused Scott of "misinformation" and it refused to address the subject matter.