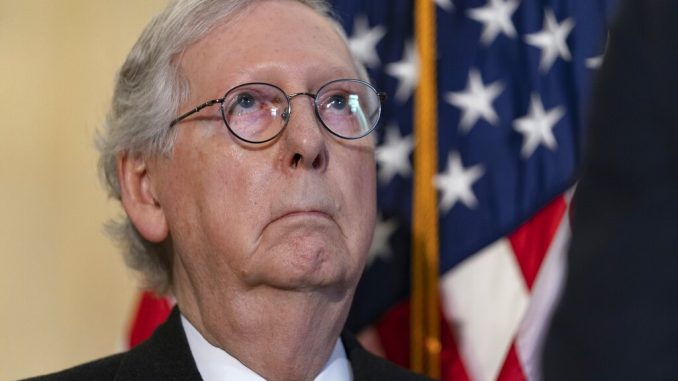 OAN Newsroom
UPDATED 1:34 PM PT – Wednesday, February 9, 2022
Senate Minority Leader Mitch McConnell (R-Ky.) appears to have kicked 45th President Donald Trump and his base supporters to the curb, yet again.
During a presser on Tuesday, he pushed back against the Republican National Committee's decision to censure establishment Republicans Liz Cheney (R-Wyo.) and Adam Kinzinger (R-Ill.). This comes as the representatives continue to work on the January 6 Committee, which has faced accusations of being used to persecute Trump and his supporters.
However, McConnell was quick to dismiss concerns. This comes as the Kentucky lawmaker has developed a reputation of caving to establishment politicians. Last year, Trump called McConnell a "old crow" when he voted in favor of Joe Biden's so-called bipartisan infrastructure bill.
On the other hand, many upcoming Republican leaders like Representative Elise Stefanik (R-N.Y.) are standing by President Trump. During a press conference on Tuesday, she pointed out Republicans began calling for law and order far before Democrats pointing to the left's encouragement of riots in 2020.
"As Republicans we have been very clear, we condemn the violence on January 6," Stefanik stated. "We also condemned the violence on 2020 as violent criminals attacked federal buildings, including parts of Washington DC."
Stefanik, who has replaced Cheney as the third ranking House Republican, also sounded the alarm on the January 6 panel and demanded a fair probe.
"We believe the January 6 commission is about political theater, it's about punishing political opponents and not getting to the real facts," said the the New York lawmaker. "Which should be how can we ensure that the capital complex is safe, not only for those of who work here, but for the American people to come continue to advocate for policies they believe in."
This comes as many Republicans call for an unbiased probe into events on January 6 as allegations of mistreatment and torture of detainees stack up.