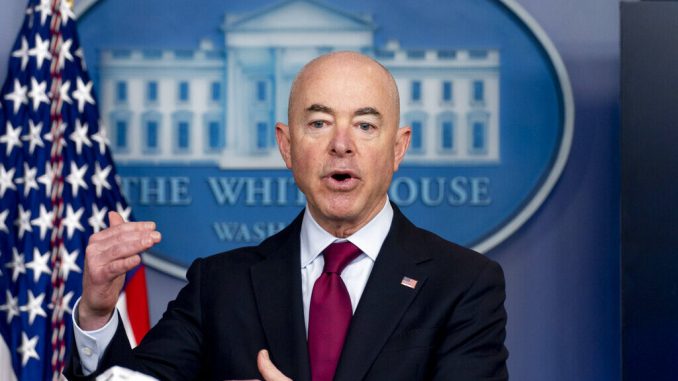 OAN Newsroom
UPDATED 9:53 AM PT – Friday, March 19, 2021
The Biden administration has continued to come up short on the growing crisis at the southern border as more illegal immigrants are released without being tested for coronavirus.
While testifying to the House Judiciary Committee on Wednesday, Department of Homeland Security (DHS) Secretary Alejandro Mayorkas failed to properly respond to questions from lawmakers.
"It is our policy to test and to quarantine," he stated. "We are doing the best we can to ensure the policy is executed."
When questioned on whether DHS has been actively testing illegal immigrants at border ports of entry, Mayorkas admitted that his department was not able to follow their policy to its fullest extent.
"We did not have the capacity to test them at border patrol stations," he continued. "We have since begun to build that capacity so that we can do the testing there."
Biden's DHS Secretary Alejandro Mayorkas said today, "We are on pace to encounter more individuals on the southwest border than we have in the last 20 years."

How much longer will the Biden administration insist there is not a crisis on the southern border?

— Senator Ted Cruz (@SenTedCruz) March 16, 2021
Mayorkas went on to say the department made a mistake when releasing aliens who haven't been tested for coronavirus into communities near the southern border. Additionally, border officials don't currently know how many untested illegal immigrants have been released into the U.S. so far.
"There have been times when we have not met our responsibility as well as we should have," Mayorkas stated. "Those instances are brought to the attention of leadership and they are addressed, and we improved based on the mistakes made."
Current federal policy requires all international travelers to show proof of a negative COVID-19 status within three days of entering the country. This revelation prompted GOP congressman Andrew Cyde (R-Ga.) to note, it seems illegal immigrants are being held to a more lenient standard than those entering the country legally.
In order to combat the lack of testing, the department is hoping gain assistance from state, local and community-based organizations that can perform testing as well as quarantine illegal immigrants.