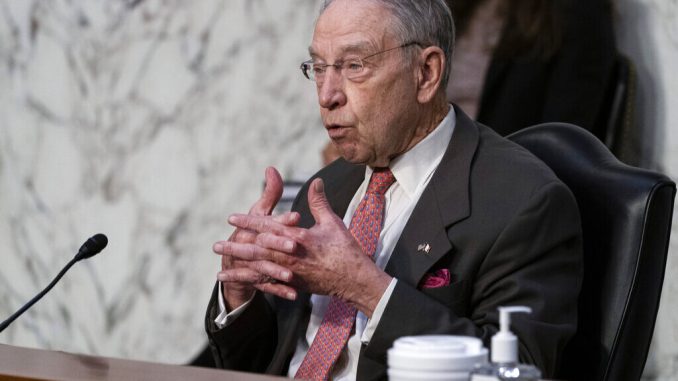 OAN Newsroom
UPDATED 8:47 AM PT – Friday, February 4, 2022
Sen. Chuck Grassley (R-Iowa) commented on the latest Department of Justice criminal probe into business ties between the Biden family and America's greatest rival. The Republican lawmaker is requesting information about its probes into the their business ties with China.
While speaking on the Senate floor recently, Grassley stressed the DOJ has contradicted itself and downplayed its probes into Hunter Biden's suspected money laundering from China.
"I've asked serious ethical questions of the Justice Department that the department so far has refused to answer," stated the lawmaker. "…Our letters have provided Attorney General Garland the opportunity to hit the ball right out of the park, instead he doesn't even try to make a swing."
Grassley  pointed out that Hunter made millions of dollars from business ventures with Chinese oligarchs and state-owned companies. He added, White House officials appear to be covering up the Hunter Biden criminal case.
"What's the Biden Justice Department hiding?" asked the senator. "This blatantly inconsistent treatment has cast a cloud over Hunter Biden's criminal case. Just imagine if this fact pattern had involved between President Trump and his sons. The media would have gone nuts over it."
The Republican also denounced the secrecy and suspected mishandling of Hunter Biden's case. He called for full transparency.
"The American people are rightly skeptical of how the Justice Department is handling the Hunter Biden criminal investigation," said Grassley. "The secrecy and the lack of transparency will only increase the skepticism the American people have."
The Iowa lawmaker warned he and fellow GOP Sen. Ron Johnson (R-Wis.) will not stop doing "good government oversight" on this issue because the American people deserve answers.
FULL REMARKS: