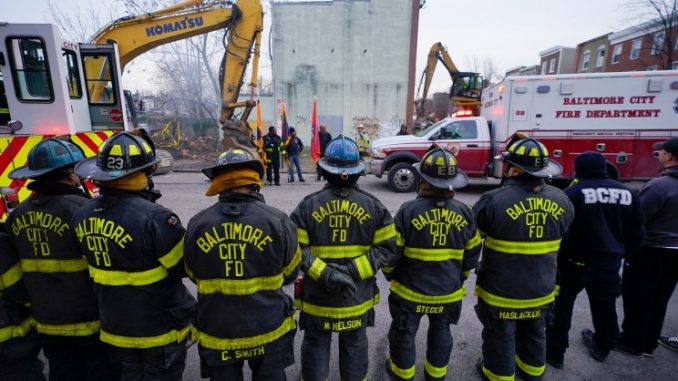 OAN Newsroom
UPDATED 9:52 AM PT – Tuesday, January 25, 2022
Officials for the Baltimore City Fire Department provided an update after three of its members were killed with another left fighting for his life after a building partially collapsed on them while battling a fire.
In a press conference Monday, Baltimore Fire Chief Niles Ford tragically confirmed the passing of three of his firefighters: Lt. Paul Butrim, Kelsey Sadler and Kenny Lacayo.
Today, Lt. Paul Butrim, FF Kelsey Sadler & FF Kenny Lacayo lost their lives in service to our city. FF John McMaster remains in the hospital in critical but stable condition. We will continue to pray for the family of those we lost. pic.twitter.com/cRGXp1YwNp

— Baltimore Fire (@BaltimoreFire) January 25, 2022
Chief Ford said the firefighters responded to a 2-alarm fire in a three-story vacant row home early Monday morning. As they were inside battling the blaze, the building partially collapsed and trapped all four members inside.
"Rescue efforts were continued until we were able to remove the other three firefighters," explained Chief Ford. "Once removed, two of the firefighters were transported to Shock Trauma where they were pronounced deceased a short time later. The fourth firefighter was pronounced deceased at the scene."
Additionally, Dr. Thomas Scalea of Maryland Shock Trauma said John McCaster remains in the hospital where he is listed in serious but stable condition.
Chief Ford stressed he needs everyone to take care of each other, pray and look out for one another as well as their families. He added, Baltimore lost three heroes, but some lost family members.
"Our firefighters see each other like families, so they lost a family member," he stated. "So my goal today is to make sure that they heal and turn inward, and we all take care of each other."
Currently, there is no word on the cause of the fire, which remains under investigation.