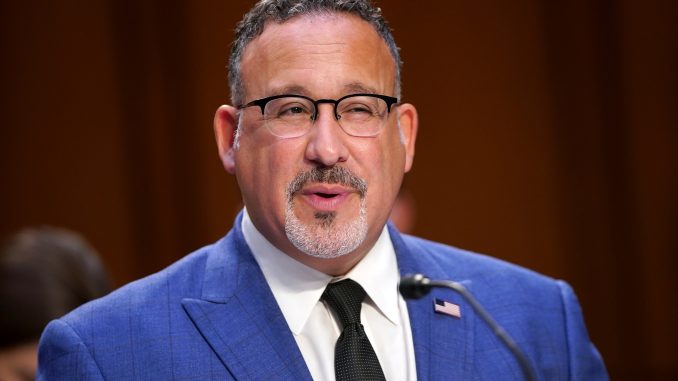 OAN Newsroom
UPDATED 10:22 AM PT – Wednesday, January 12, 2022
New evidence implicates Education Secretary Miguel Cardona in the labeling of concerned parents as domestic terrorists. In a September email that was recently released, National School Board Association interim CEO Chip Slaven sent a letter to the White House at Cardona's request.
The letter asked the Justice Department to use the Patriot Act against supposed domestic terrorists showing up at school board meetings. This follows evidence that Attorney General Merrick Garland drafted a government memo based on the letter, in turn, calling into question how the administration plans to deal with oppositional parents.
🚨🚨🚨MUST WATCH🚨🚨🚨

This is a flat-out LIE from Joe Biden's Secretary of Education, Miguel Cardona.

Cardona in fact "solicited" the letter from the NSBA that compared concerned parents to "domestic terrorists." pic.twitter.com/w2NWtEoe5s

— House Republicans (@HouseGOP) January 12, 2022
Meanwhile, the Biden administration is planning to send millions of additional COVID-19 tests to schools nationwide amid the surge of the Omicron variant. The administration announced Wednesday, it will be providing 5 million rapid tests and 5 million additional PCR tests to schools each month.
The White House claims the additional tests will help schools stay open and sustain testing programs in accordance with CDC guidelines. According to the White House, 96 percent of the nations schools are open for in-person learning.