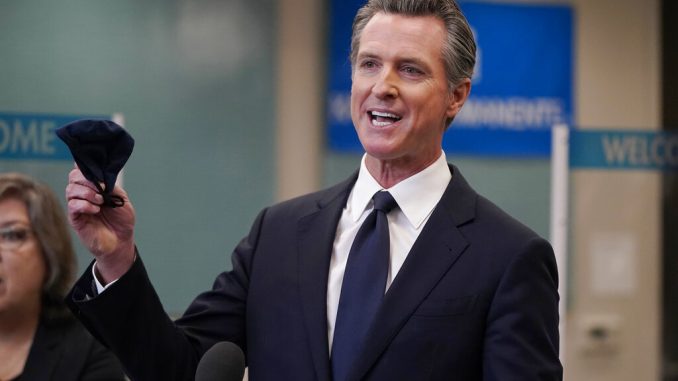 OAN Newsroom
UPDATED 9:33 AM PT – Wednesday, December 15, 2021
California Gov. Gavin Newsom (D) proposed a plan to allow private citizens to sue gun manufactures and sellers. The proposed law is based off of a restrictive abortion ban in Texas, which allows Texans to sue anyone who helps a woman get an abortion after six-weeks of pregnancy.
"Justice Robert was absolutely right in his dissent around the concern about this opening up the door for similar laws for states that want to turn over enforcement to the public, and provide upwards of $10,000 in legal fees to be recovered for people to report the illegal sale of ghost guns and the illegal sale of weapons of war, assault weapons," asserted the Democrat.
On Saturday, Newsom said he will work with legislatures to draft the gun control proposal. His law would allow private citizens to seek statutory damages of at least $10,000 per violation. Meanwhile, pro gun advocates were quick to react negatively to this.
📢NRA STATEMENT ON NEWSOM'S POLITICAL GUN CONTROL STUNT

Gov. @GavinNewsom misunderstands the actions of the Supreme Court – and the limits of his war on lawful gun ownership. His promise to run roughshod over the Second Amendment is little more than political theater. (1/2) pic.twitter.com/ODGDECfpWt

— NRA (@NRA) December 13, 2021
Michael Schwartz, the Executive Director of the San Diego Gun Rights Organization, believes the governor is being vindictive towards people who just want to exercise their rights.
"So if he believes that they are infringing on a constitutionally protected right in Texas and he's okay with infringing on a constitutionally protected right in California, it's extremely hypocritical," he stated.
Schwartz doesn't believe Newsom's new law will stop criminals, but instead infringe on law abiding citizens who own firearms.
New York Attorney General Leticia James made an appearance on "The View," where she commented that she's looking to follow in the California governor's footsteps. The show's hosts supported the attorney general's comments, saying she needs to continue her efforts of turning states from red to blue.
Newsom is aiming to pass the law through California's state legislature, which is scheduled to reconvene in January.