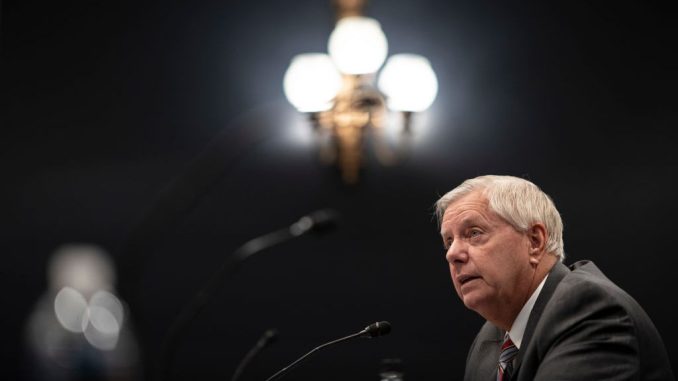 OAN Newsroom
UPDATED 11:22 AM PT – Saturday, December 11, 2021
Republicans in the upper chamber decry Joe Biden's economic agenda after receiving final word on how much his Build Back Better bill will cost.
"The radical left could care less. They are on a mission to pass this monstrosity come hell or high water," said Sen. Lindsey Graham (R-S.C.). "I think today, we show that this…they're twin daggers aimed at the heart of the American economy."
On Friday, South Carolina Sen. Graham broke down the numbers citing the much anticipated Congressional Budget Office (CBO) report released moments before. The report revealed the spending proposal actually costs nearly $5 trillion, which is $3 trillion more than what Democrats repeatedly promised.
The CBO added this would increase the budget deficit by $3 trillion over the next ten years.
Graham warned the bill would also drive up an already skyrocketing inflation rate, which has increased to nearly 7 percent.  He also claimed the bill was written to subvert attention from the hidden costs and said he wonders how Democrats plan to pay for the bill.
Ahead of the CBO's announcement, both Republican senators of Tennessee, Marsha Blackburn and Bill Hagerty, derided Biden's agenda. They lamented the Biden administration's supply chain crisis and massive spending proposals are costing their constituents big at the grocery store and gas pump.
They further condemned the high inflation rates as a tax on the American people. Additionally, Senate Minority Leader Mitch McConnell (R-Ky.) called the bill reckless and irresponsible, highlighting Democrats promised their agenda wouldn't cost a thing.
Pres. Biden, Sen. Schumer & Speaker Pelosi want to raise the debt ceiling to pave the way for the trillions of extra spending in Build Back Broker.

That spending stokes inflation, which is a tax we all pay.

Why would I help Sen. Schumer do that? pic.twitter.com/nT4g3eFGq6

— John Kennedy (@SenJohnKennedy) December 8, 2021
Earlier this week, Louisiana Sen. John Kennedy pointed out the U.S. doesn't have the money to pay for the bill.
"We'll have to borrow the money. We don't have the $3 trillion. We don't even have 5 percent of it. Now, I think, that the bill represents a spending taxation and borrowing orgy that we don't need," said Kennedy.
In the meantime, Biden and Republican senators continue the fight to sway the opinion of key swing vote, West Virginia Sen. Joe Manchin (D). Biden said he plans to meet with the Democrat senator next week to see if he'll toe the party line. However, Sen. Graham said he believes Manchin will use the facts to ultimately decide against the bill.
Democrats are hoping to pass the bill by Christmas day.