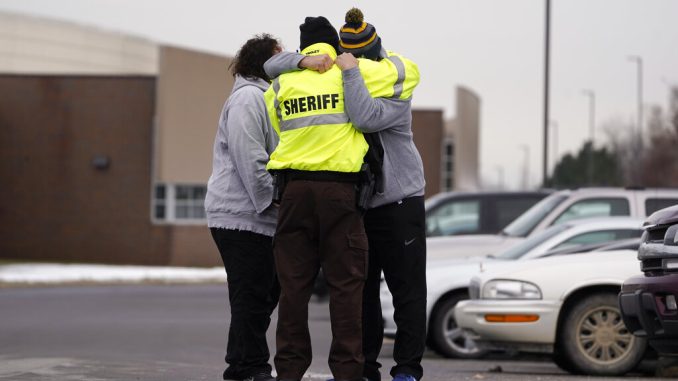 OAN Newsroom
UPDATED 9:57 AM PT – Wednesday, December 1, 2021
New details are emerging regarding the victims in the recent Michigan high school shooting. During a press conference Tuesday, Oakland County Sheriff Michael Bouchard confirmed the three students killed ranged from ages 14 to 17 while eight others, including a teacher, were injured.
The shooting happened Tuesday afternoon at Oxford High School in Oakland County, which is about 30-miles north of Detroit. Of the eight injured, four remain in critical condition, three are in stable condition with various gunshot wounds and the teacher who was shot has been discharged.
Bouchard confirmed the suspected shooter, a 15-year-old male, is being held at juvenile detention facility pending charges.
"We have the suspect in custody, he's a 15-year-old male sophomore, a resident of Oxford village," said the sheriff. "He was not injured…homicide and attempted homicide with the approval of the on duty probate court referee. We cannot identify him at this point because he's a juvenile."
According to preliminary information, the weapon used in the shooting was purchased just last week by the boy's father. However, his parents have hired an attorney and have not allowed their son to speak to police.
Additionally, Bouchard went on to commend his team and the county's active shooter training while crediting it for saving other lives.
"I'm extremely proud of the deputies, our partners, the fire department and EMTs for their intervening actions," he stated. "As I mentioned, I believe they literally saved lives having taken down the suspect with a loaded firearm still in the building."
A motive for the shooting remains unclear. Meanwhile, a number of vigils were held across the Oxford community Tuesday night following the shooting.