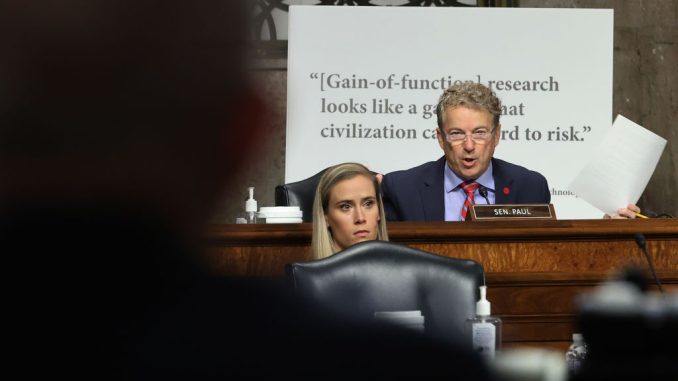 OAN Newsroom
UPDATED 1:27 PM PT – Thursday, November 4, 2021
Sen. Rand Paul (R-Ky.) is yet again urging Dr. Anthony Fauci to admit to National Institutes of Health funding of gain-of-function research at the Wuhan lab.
"We're not going to get anywhere close to trying to prevent another lab leak of this dangerous sort of experiment. You won't admit that it's dangerous. And for that lack of judgement, I think it's time for you to resign," Paul told Fauci.
During a Senate hearing on Thursday, Paul cited evidence that Wuhan scientists created viruses that don't exist in nature. They also reportedly worked on making viruses more infectious.
The senator said Fauci's NIH changed the definition of gain-of-function once its involvement was revealed. Paul referenced the altering of the definition on the NIH's website that originally defined that sort of research as "a type of research the modifies a biological agent so that it confers new or enhanced activity to that agent."
.@RandPaul nails Dr. Fauci to the wall on dangerous gain-of-function research:

"For that lack of judgement, I think it's time that you resign." 🔥🔥🔥 pic.twitter.com/ofmBKgfbeA

— Young Americans for Liberty (@YALiberty) November 4, 2021
"The preponderance of evidence now points towards this coming from the lab. And what you've done is change the definition on your website to try and cover your a** basically. That's what you've done, you changed the website to try to have a new definition that doesn't include the risky research that's going on. Until you admit that it's risky, we're not going to get anywhere," Paul stated.
Sen. Paul pointed out the NIH has admitted it funded those experiments through EcoHealth Alliance. In response, Fauci again refused to acknowledge those concerns.